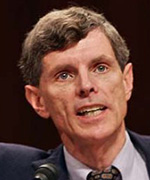 David Graham, MD, an epidemiologist is FDA's Associate Director of  Drug Safety who, throughout his career, has been a thorn for FDA managers by identifying serious hazardous effects of FDA-approved drugs. In 1999, his data helped identify the risk of liver damage from Pfizer's diabetes drug Rezulin — which eventually was withdrawn from the market.
In 2004, he emerged as the most prominent FDA whistleblower whose riveting Congressional testimony was front-page news. He characterized FDA's mishandling of Merck's Vioxx licensure as "the worst preventable public health disaster in its history, resulting in 88,000 to 139,000 heart attacks of which 30,000–55,000 were fatal." He further identified five other drugs with lethal risks whose use is medically unjustifiable: the acne drug, Accutane, the anti-inflammatory cox-2 inhibitor Bextra, the statin, Crestor, the diet drug, Meridia (withdrawn 10/8/2010), and the asthma drug, Serevent.
Dr. Graham's authoritative testimony showed how FDA leadership was endangering public health by ignoring or covering up lethal risks of widely prescribed prescription drugs. He stated that "the FDA, as currently configured, is incapable of protecting America against another Vioxx. We are virtually defenseless."
Forbes honored Dr. Graham's courageous testimony with its "Face Of The Year" award, noting:
Without Graham, the Vioxx debacle might have been seen as an isolated event. But because he was willing to step into the spotlight, the withdrawal of Vioxx from the market looks like part of a systemic failure to properly weigh the risks and benefits of drugs. To hear Graham tell it, this is part of a systemic failure to address drug safety on the part of the FDA.
Before Vioxx, Dr. Graham succeeded in removing from the US market a litany of  unsafe, dangerous drugs including: Omniflox an antibiotic, Rezulin, a diabetes treatment, Fen-Phen and Redux, weight-loss drugs, and phenylpropanolamine, an over-the-counter decongestant, and in restricting the use of Trovan, an antibiotic, to use in hospitals only.  Dr. Graham also had a part in the removal of Baycol, a statin, Seldane, an antihistamine, and Propulsid, an anti-heartburn drug.
Dr Graham continued his steadfast advocacy on behalf of the "290 million patients" by blowing the whistle on dangerous drugs based on the large samples of data that he has examined. For example, he estimated that 62,000 deaths each year are attributable from the off-label use of atypical neuroleptic drugs; the agency's preliminary analysis of millions of medical records suggested an increased risk of strokes and arrhythmias from ADHD drugs. Dr. Graham noted that "Arrhythmia is believed to be the pathway for sudden unexplained death." In 2006 FDA was forced to add Black Box warnings to ADHD drugs.
In a 2005 cover-story interview with Fraud Magazine, Dr. Graham was asked "What specifically do you believe is broken in the FDA and what needs to be done to fix it? What must be done to improve the drug vetting system ?" Dr. Graham responded as follows:
"FDA is inherently biased in favor of the pharmaceutical industry. It views industry as its client, whose interests it must represent and advance. It views its primary mission as approving as many drugs it can, regardless of whether the drugs are safe or needed"
Dr. Graham's critique of the FDA modus operandi is all the more devastating as it comes from a high level veteran insider.  An  in-depth interview with Dr. Graham  was conducted in 2005 by Manette Loudon, the lead investigator for Dr. Gary Null. This interview was reprinted in 2012 by Life Extension.
Dr. Graham pointed out that perhaps the most egregious problem with the drug approval process is the structural flaw that continues to put Americans at risk from hazardous prescription drugs.
"The structural problems that exist within the FDA is that the people who approve the drugs [at the Center for Drug Evaluation Research (CDER)] are also the ones who oversee the post marketing regulation of the drug. The officials who approve a drug, when shown that there is a safety problem with it, are very reluctant to do anything about it because it will reflect badly on them. They continue to let the damage occur. America is just as at risk now, as it was in November, as it was two years ago, and as it was five years ago…

Within CEDER about 80 percent of the resources are geared towards the approval of new drugs and 20 percent is for everything else. Drug safety is about five percent. The "gorilla in the living room" is new drugs and approval. Congress has not only created that structure, they have also worsened that structure through the PDUFA, the Prescription Drug User Fee Act, by which drug companies pay money to the FDA to review and approve their drug. So you have that conflict as well."
Manette asked Dr. Graham: "When you consider the financial impact your whistle blowing has had on the pharmaceutical industry do you have any fears that your life may be in jeopardy?"
Dr. Graham responded: "I have tried not to think about that." However, he did acknowledge that prior to his Congressional testimony in November 2004 there was "a coordinated conspiracy among senior level FDA officials to preempt his testimony:"
"there was an orchestrated campaign by senior level FDA managers to intimidate me so that I would not testify before Congress. This intimidation took several forms. One attack came from our acting Center Director who contacted the editor of the Lancet, the prestigious medical journal in the United Kingdom, and intimated to the editor that I had committed scientific misconduct and that they shouldn't publish a paper that I had written showing that Vioxx® increases the risks of heart attack…

The second attack was from other high level FDA officials who contacted Senator Grassley's office and attempted to prevent Senator Grassley and his staff from supporting me and calling me as a witness. They knew that if they could disarm Senator Grassley that would neutralize me.

The third attack came from senior FDA officials who contacted Tom Devine, my attorney at the Government Accountability Project, and attempted to convince him that he should not represent me because I was guilty of scientific misconduct; I was a bully; a demigod; and a terrible person that couldn't be trusted. These people were posing as whistleblowers themselves ratting on another whistleblower. Some of these senior level FDA officials were in my supervisory chain and are people I work for. They were involved in a coordinated attempt to discredit me and to smear my name and to prevent me from giving testimony.

Senator Grassley and his staff quickly realized that what they were saying about me was fabricated. The editor of The Lancet also realized that what the high level FDA officials were saying to him was a pack of lies. He sent emails to them saying it looked to him as if they were trying to interfere with his editorial process…"
Read the interview in full; it continues to be extremely relevant.