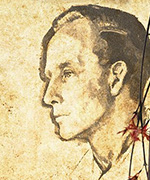 John W. Thompson, MD "must be counted among the saints of his century and of medicine, a person who could confront horrors that others ignored and devote his life to rectifying them." (Paul Weindling. John W. Thompson: Psychiatrist in the Shadow of the Holocaust, 2010)
Dr. Thompson was a deeply religious psychiatrist who came to Germany in April 1945 as an officer in a British-Canadian Air Force group (RAF 84) preparing for the occupation of Germany. Its mission was to search for German radar, jet engine technology, and results of scientific research. Thompson was to assess German oxygen masks and Luftwaffe procedures for offsetting decompression sickness. However, his mission and the mission of his life changed when he arrived in Germany and was exposed to the horrors of the recently liberated concentration camp at Bergen-Belsen, a camp with 53,000 prisoners when it was liberated in April 1945.
In the weeks before surrendering the camp, the Germans destroyed the water supply system, creating a nightmare of sanitation, worsening the starvation of the prisoners. Days before liberation, Anne Frank died there. Because of starvation and disease, mainly typhus, over 13,000 prisoners died in the weeks after liberation. A broadcast of the British Broadcasting Corporation by a reporter accompanying the British troops who liberated the camp included the following description:
Here over an acre of ground lay dead and dying people. You could not see which was which. . . . The living lay with their heads against the corpses and around them moved the awful, ghostly procession of emaciated, aimless people, with nothing to do and with no hope of life, unable to move out of your way, unable to look at the terrible sights around them. . . . Babies had been born here, tiny wizened things that could not live. . . . A mother, driven mad, screamed at a British sentry to give her milk for her child, and thrust the tiny mite into his arms, then ran off, crying terribly. He opened the bundle and found the baby had been dead for days. . . . This day at Belsen was the most horrible of my life. (Dimbleby R: Liberation of Belsen, BBC News, April 15, 1945)
As described by Weindling,
Dr. Thompson initially devoted himself to the care of survivors. He found the giving of care both personally annihilating and spiritually illuminating. . . . Belsen reshaped Thompson's sensibility. His encounter with survivors deeply scarred and changed him. He had not lost his faith in science, but he saw that science and medicine required alternative moral and philosophical rationales. Mechanistic physiology was Thompson's 'God that failed'. . . . To transcend the suffering of the Holocaust he turned to a philosophy of communion with the whole person. Spiritually transformed by the suffering he witnessed, he resolved to assist at the spiritual rebirth of the postwar world" (pp. 98, 106).
Dr. Thompson was assigned to a British intelligence group as a senior officer in September 1945, the FIAT (Field Information Agency Technical), whose goal was to secure military, scientific, and technical intelligence. The British and American occupation forces rounded up German scientists and asked them to describe in great detail all of the research they had conducted during the war and to assist in assembling the scientific publications and research documents. The purpose was to gather the fruits of anticipated very advanced secret scientific weapons and technology. It quickly became apparent that underlying the research was a previously unrecognized category of human abuse, which Dr. Thompson eventually termed "medical war crimes".
Dr. Thompson conducted extensive interviews with doctors and scientists at German universities and hospitals; and he obtained copious research documents whose content led him to conclude that ninely percent of the German medical profession at the highest level were involved one way or another in the sacrifice of humans as experimental subjects. He embarked on a campaign to deal with these cataclysmic crimes , but first he had to overcome staunch opposition from the British Foreign Office and U.S. intelligence officials.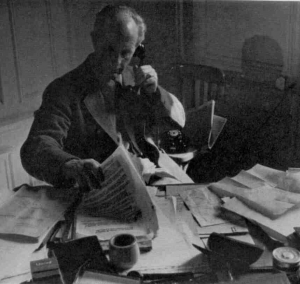 The Nazi Doctors Trial at Nuremburg (1946–1947) was largely the result of the persistent effort of Dr. Thompson and Col. David Marcus, the American Chief of the War Crimes Branch in the U.S. military whom Thompson convinced to prepare a medical war crimes trial.
After the war, Dr. Thompson went back to psychiatry as Assistant Professor at Albert Einstein College of Medicine in New York City. He devoted inordinate time to communicating with "so called incommunicable 'chronic catatonics' or other 'hopeless backward cases.'" He would sit on the floor for hours with patients in nonverbal communication. He considered the city of New York a vast asylum, declaring, "The Bowery is the open ward and Bellevue the closed." He became an adherent of R.D. Laing's therapeutic approach to schizophrenia, and institutional care of these patients as necessarily oppressive. Dr. Thompson remained convinced the rest of his life that spiritual and dynamic therapy was what persons with schizophrenia needed, and he had no confidence in psychopharmacology and in so-called scientific approaches in psychiatry.
His biographer, Prof. Paul Weindling describes how the pain of Bergen-Belsen, the war, and the Holocaust worsened as Thompson grew older, and he tired of life. In 1965, at age 59, he went snorkeling with a young protégé, Edward Hubbard. Thompson swam ahead so fast that his diving partner could not keep up with him. He was found dead in the water; it is not clear if he took his own life. Looking back upon his life, he must be counted among the saints of his century and of medicine, a person who could confront horrors that others ignored and devote his life to rectifying them. (Prof. Paul Weinding. John W. Thompson: Psychiatrist in the Shadow of the Holocaust, 2010)