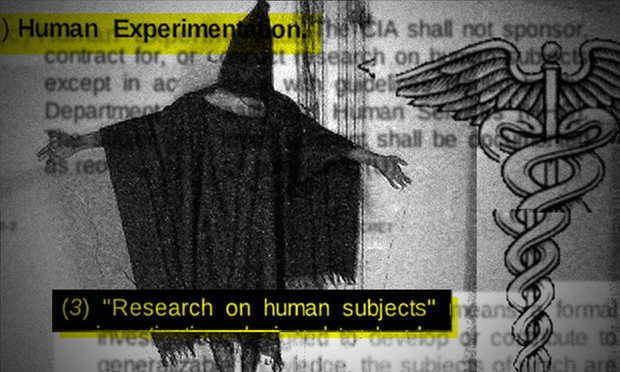 In June 2015, the UK Guardian published previously classified CIA documents obtained by the American Civil Liberties Union. For the first time, sections of a 1987 CIA document that sets forth explicit guidelines for "human experimentation" that, according to CIA spokesperson, were in force – before, during and after CIA's post-9/11 torture of terrorism detainees.
"CIA has had internal guidelines interpreting Executive Order 1233 in place continuously from 1987 to present. While some provisions in these guidelines have been amended since September 11, 2001, none of those amendments changed provisions governing human experimentation or were made in response to the detention and interrogation program." 
The CIA guidelines state: "Law and Policy Governing the Conduct of Intelligence Agencies shall not sponsor, contract for, or conduct research on human subjects outside of instructions on responsible and humane medical practices set for the entire US government by its Department of Health and Human Services."
A cornerstone of those DHHS regulations is the subject's "voluntary, informed consent." No detainee ever gave informed consent to experimental torture or to any coerced medical action.
A major loophole in the guidelines is that they empower CIA's director to "approve, modify, or disapprove all proposals pertaining to human subject research."
"The leeway provides the director, who has never in the agency's history been a medical doctor, with significant influence over limitations the U.S. government sets to preserve safe, humane and ethical procedures on people.

"CIA director George Tenet approved abusive interrogation techniques, including waterboarding, designed by CIA contractor psychologists. He further instructed the agency's health personnel to oversee the brutal interrogations – the beginning of years of controversy, still ongoing, about US torture as a violation of medical ethics." (Spencer Ackerman. CIA Torture Appears to Have Broken Spy Agency Rule on Human Experimentation, The Guardian, June 2015)
The previously unknown section of the CIA "human subject research" guidelines empower the CIA director and an advisory board to "evaluate all documentation and certifications pertaining to human research sponsored by, contracted for, or conducted by the CIA".
Of note, as per George Tenet's 2003 instructions:
"Appropriate medical or psychological personnel must be on site during all detainee interrogations employing Enhanced Techniques. In each case, the medical and psychological staff shall suspend the interrogation if they determine that significant and prolonged physical or mental injury, pain or suffering is likely to result if the interrogation is not suspended."
Executive Order 12333 was issued in 1981 after legislative action curbed intelligence powers in response to abuses – including the CIA's infamous practice of engaging in covert experimentation on human beings through brain washing mind control programs like the infamous MK-Ultra project, which, among other things, dosed unwitting participants with LSD as an experiment. (Read more at AHRP section CIA Mind Control Experiments)
The CIA, which does not formally concede that it tortured people, insists that the presence of medical personnel ensured its torture techniques were conducted according to medical rigor.