The coronavirus (COVID-19) public health crisis has demonstrated, once again, that the government and its public health bureaucracy are NOT to be trusted. The US Centers for Disease Control has repeatedly proven itself to be the problem, not the solution to public health crises.
CDC's primary job is Disease Control and prevention. CDC is a bloated federal agency with a long history of incompetence, fraud, publicly undisclosed shady financial partnerships with Big Pharmaceutical corporations. Its policies are under the influence of those corporate commercial interests that often collide with public health. Entrenched CDC bureaucrats occupy highest authoritative positions within the public health-industrial complex; they are hostile to all public efforts to hold them accountable, while they clamor for ever-ballooning budgets – now at $7 billion.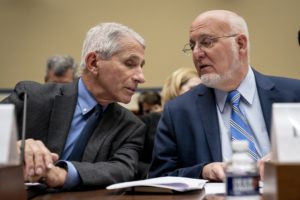 This agency has repeatedly failed to focus on its primary job, without ever learning from its past failures. In fact, CDC recommendations have often undermined public health, children's well-being, and constitutionally guaranteed human right to voluntary, informed consent. The fact is, the public would be much more cooperative, if public health "authorities" would truthfully inform the public about the nature of a serious public health issue. Instead, deception is the order of the day.
True to its past modus operandi of dictating which medical tests may be used to detect infectious diseases and which interventions must be used, CDC officials restricted testing for Covid-19 to all but a tiny number of those with compatible symptoms.
As Dr. Meryl Nass writes in a comprehensive essay, How Understanding More About the Virus Will Help You Protect Yourself:
"Had there been the availability of widespread reverse transcriptase PCR testing, or had other types of tests been made available, and if the US had been able to test cases with minimal or no symptoms, maybe the US or other nations could have instituted quarantines that stopped spread.
But the CDC made the inexplicable decisions to restrict US testing by allowing only the test CDC had developed to be used, a test that was both unnecessarily cumbersome, and faulty, and to test only those who almost certainly were infected.  This slowed down the development of better and more accessible tests by private, university and state public health labs.
As The Washington Post reported on March 16th : "While CDC Coronavirus Tests Stalled for Six Weeks, a German Lab Made 1.4 Million Tests. Those 1.4 million tests were rapidly utilized. By contrast,
"U.S. efforts to distribute tests ground nearly to a halt, and the country's inability to produce them left public health officials with limited means to determine where and how fast the virus was spreading. From mid-January until Feb. 28, fewer than 4,000 tests from the U.S. Centers for Disease Control and Prevention were used out of more 160,000 produced…but manufacturing troubles were discovered, and most [of the 160,000 tests] would be deemed unusable because they produced confusing results. Over the next three weeks, only about 200 of those tests sent to labs would be used, according to CDC statistics."
Business Insider reports (March 19th) that CDC tests "couldn't distinguish between the coronavirus and water"
According to a government email obtained by The Wall Street Journal, the CDC botched its early development of coronavirus test kits, which could not differentiate between the novel coronavirus and lab-grade water.
The delay in coronavirus testing has forced federal, state, and local governments to accelerate their response to the outbreak without up-to-date data about how far the virus has spread.
The massive failure has put at risk the lives of physicians and healthcare workers, as well as entire public.
Below is an example — a cri du coeur — by a frontline physician in New York City:
A New York Doctor's Coronavirus Warning: The Sky Is Falling By Cornelia Griggs, a pediatric surgery fellow.
"Alarmist is not a word anyone has ever used to describe me before. But this is different.

We are living in a global public health crisis moving at a speed and scale never witnessed by living generations. The cracks in our medical and financial systems are being splayed open like a gashing wound. No matter how this plays out, life will forever look a little different for all of us…

On the front lines, patients are lining up outside of our emergency rooms and clinics looking to us for answers — but we have few. Only on Friday did coronavirus testing become more readily available in New York, and the tests are still extremely limited. Right next to my office in the hospital, a lab is being repurposed with hopes of a capability to run 1,000 tests a day. But today, and likely tomorrow, even M.D.s do not have straightforward access to testing across the country. Furthermore, the guidelines and criteria for testing are changing almost daily. Our health care system is mired in situational uncertainty… doctors on the ground are pessimistic about our surge capacity…

We need hospitals to figure out how to nimbly and flexibly modify our existing practices to adapt to this virus and do it fast. Doctors across the globe are sharing information, protocols and strategies through social media, because our common publishing channels are too slow. Physician and surgeon mothers are coming together on Facebook groups to publish advice to parents and the public, to amplify our outrage, and to underscore the fear we feel for our most vulnerable patient populations, as well as ourselves and our families.

Please flatten the curve and stay at home…"

Read more: A New York Doctor's Coronavirus Warning: The Sky Is Falling OpEd The New York Times, March 19, 2020
Read: How Understanding More About the Virus Will Help You Protect Yourself by Meryl Nass, MD.