For Autocrats, and Others, Coronavirus Is a Chance to Grab Even More Power

"As the coronavirus pandemic brings the world to a juddering halt and anxious citizens demand action, leaders across the globe are invoking executive powers and seizing virtually dictatorial authority with scant resistance.

As the new laws broaden state surveillance, allow governments to detain people indefinitely and infringe on freedoms of assembly and expression, they could also shape civic life, politics and economies for decades to come." The New York Times, March 31, 2020
The coronavirus pandemic caught the public by surprise while exposing in stark detail, the disconnect between reality, and initial false reassurances by public health officials who had claimed that government safeguards are in place to protect us in the event of the emergence of a dangerous infectious disease or a bioterrorist attack. The Food and Drug Administration (FDA) website assures the public that:
"FDA's division, the Center for Biologics Evaluation and Research (CBER) has been very active in developing medical countermeasures and counter bioterrorism and infectious diseases. CBER continues to be very active in supporting US Government's initiatives to develop medical countermeasures and counter bioterrorism and emerging infectious diseases, including pandemic influenza."
CDC declared in 2019 the following Agency Marketing Statement:
"The Centers for Disease Control and Prevention (CDC) is the agency Americans trust with their lives. As a global leader in public health, CDC is the nation's premier health promotion, prevention, and preparedness agency. Whether we are protecting the American people from public health threats, researching emerging diseases, or mobilizing public health programs with our domestic and international partners, we rely on our employees to make a real difference in the health and well-being of people here and around the world."
Reality check: Numerous government agencies and expansive bureaucracies were ostensibly established to protect the public in case of an emergency. These include the FDA, the National Institutes of Health (NIH), the Centers for Disease Control (CDC), and Biomedical Advanced Research and Development Authority (BARDA).
"BARDA was established [in 2006] to aid in securing our nation from chemical, biological, radiological, and nuclear (CBRN) threats, as well as from pandemic influenza (PI) and emerging infectious diseases (EID). BARDA supports the transition of medical countermeasures such as vaccines, drugs, and diagnostics from research through advanced development towards consideration for approval by the FDA and inclusion into the Strategic National Stockpile."
In 2019, the Strategic National Stockpile was transferred from the CDC to BARDA, and BARDA's budget was increased by $722 million to a total of $2.2 billion. The stockpiles for life-saving medicines and medical equipment had been depleted during the bogus H1N1 influenza epidemic in 2009. The emergency stockpile was never replenished with essential medical equipment, therapeutics, or personal protective equipment (PPE) for doctors and nurses. The lives of both patients in need of ventilators, and the lives of medical professionals were put at increased risk of death.
The coronavirus pandemic demonstrates that those who were entrusted with the responsibility and an expanded budget, to secure the needed medical supplies for emergencies failed to carry out their responsibility, leaving the public with no better protection than when confronted by Hurricane Katrina, 9/11, or Hurricane Sandy.
What's more, while the public was misinformed with false assurances about "national preparedness", numerous government officials and global oligarchs knew from their own simulations prior to the coronavirus outbreak.
From January to August 2019, a series of US government simulation exercises under the code name, "Crimson Contagion," were conducted. The conclusion of the participating government officials was that we were totally unprepared to deal with such an event.
The participants recognized that pandemonium would follow, and that an infectious pandemic could potentially be catastrophic. As has been documented, public health officials who expect us to respect them as "experts" – failed to take basic steps to avert catastrophic, preventable human casualties – as is their public responsibility. [NYT. A Cascade of Warnings Went Unheeded (3/19/2020; Associated Press Testing Blunders Cost Vital Month in US Virus Fight (3/29/2020]
"The only means to fight the plague is honesty".  Albert Camus, The Plague (1947)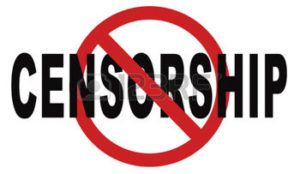 Instead of holding officials accountable for their negligence , doctors on the front lines are being fired for speaking up !  It happened  to a medical whistleblower in China and it happens to doctors in the US.
Why are journalists denied direct access to the data documenting the spread and lethality of Covid-19?
Why is access to scientists and researchers controlled by "public information officers" as it was in China?
Health News Review reports that journalists are blocked from direct access to federal health researchers and administrators at the NIH, the FDA, the CDC, the EPA, and other agencies without the presence of "public information officers". Surveys conducted by the Society of Professional Journalists (SPJ) documented censorship by federal public affairs officers.
Given the lack of honesty and transparency by the very "authorities" who invoke those terms most often; and given the media's failure to investigate, rather than re-iterate the official script, is it any wonder that this lack of honesty and forthrightness has generated distrust in the power structure. People — including physicians —  are flocking to non-commercial, alternative websites and blogs for credible information.
On October 18, 2019, a fictional table top pandemic exercise "Event 201" was convened in New York City by the Bill and Melinda Gates Foundation, with the Johns Hopkins Center for Health Security, and the World Economic Forum. The exercise was attended by a group of 15 representatives from leading corporate, government and global institutions, including the US Centers for Disease Control. [See list of participants and an excellent summary of the five hour exercise by Mary Holland, legal scholar, General Counsel and Vice Chair of the Children's Health Defense]
This simulated exercise exposed the fault lines and unpreparedness;; the simulated exercise materialized in the actual events that followed two months later, beginning in China.
In the simulated exercise, the pandemic slows down after 18 months, by which time 65 million people are projected to have died. The pandemic was projected to end only after an effective vaccine had been brought to market.
"The pandemic will continue at some rate until there is an effective vaccine or until 80-90 % of the global population has been exposed. From that point on, it is likely to be an endemic childhood disease."  [View an hour of "Highlights" from the exercise]
On November 15, 2019, before the coronavirus emerged, the CDC posted a job offer for an advisor for a US Quarantine Program
In February 2020, Bill Gates raised the alarm, by declaring the Coronavirus: "A Once-in-a-Century Pandemic" in an article published in the New England Journal of Medicine. Gates compared the fatality risk of Covid-19 to the 1918 influenza, declaring: "it can kill healthy adults in addition to elderly people with existing health problems." Bill Gates urged government to take the lead by testing and licensing new vaccines and drugs "because pandemic products are extraordinarily high-risk investments; public funding will minimize risk for pharmaceutical companies."
FORBES designated Bill Gates, the second wealthiest man in the world whose worth in 2019 was $106.8 billion.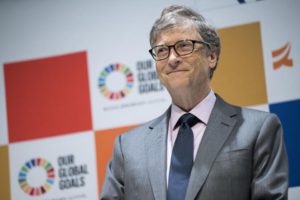 Bill Gates's Charity Paradox, an investigation by Tim Schwab of The Nation (March 17, 2020)  shines a light on the Bill and Melinda Gates Foundation whose $50 billion charitable enterprise, appears to be a self-serving enterprise with a welter of conflicts of interest.
"The Foundation's three trustees – Bill and Melinda and Warren Buffett – "could be seen as financially benefiting from the group's charitable activities. Yet, "over the last two decades [their sprawling activities] have been subject to remarkably little government oversight or public scrutiny."

"Gates has proved there is a far easier path to political power [than Michael Bloomberg's, one that allows unelected billionaires to shape public policy in ways that almost always generate favorable headlines.  [The Bill and Melinda Foundation established] a new model of charity in which the most direct beneficiaries are sometimes not the world's poor but the world's wealthiest, in which the goal is not to help the needy but to help the rich help the needy.

Through an investigation of more than 19,000 charitable grants the Gates Foundation has made over the last two decades, The Nation has uncovered close to

$2 billion in tax-deductible charitable donations to private companies—including some of the largest businesses in the world, such as GlaxoSmithKline, Unilever, IBM, and NBC Universal Media

—which are tasked with developing new drugs, improving sanitation in the developing world, developing financial products for Muslim consumers, and spreading the good news about this work."

Bill Gates' "charitable giving" has bought him inordinate influence, enabling him to shape global public health and financial policies that enrich the interconnected corporate oligarchy with Gates at the apex.

 Philanthropy has also dramatically transformed Bill Gates' reputation as one of the most cutthroat CEOs to one of the most admired people on earth – even as his charitable giving is also an investment from which Gates profits – and even as those contributions are in large part subsidized by US taxpayers. No wonder that Gates' model of charitable giving, which has given him power, influence, and absolution, is being adopted by a new generation of unscrupulous tech billionaires like Mark Zuckerberg and Jeff Bezos. They too have begun giving away billions, sometimes working directly with Gates.

Although the Gates Foundation insists that its work is unrelated to Microsoft, these charts confirm Ralph Nader's long ago assessment: it's hard to draw a line between a) Microsoft; b) Gates own personal wealth, and c) the foundation. The Foundation refused to provide The Nation information documenting its tax savings, but an independent tax scholar pointed out that multimillionaires save 40% in taxes on charitable donations. He estimated that the Gates Foundation avoided paying at least $14 billion in taxes.
The Nation uncovered evidence showing that the Gates Foundation "gave close to $2 billion in tax-deductible charitable donations to private companies—including some of the largest businesses in the world, such as GlaxoSmithKline, Unilever, IBM, and NBC Universal Media—which hardly are in need of "charitable donations". Those donations are calculated to influence both public policy and public opinion. The Nation reports that $250 million was given by the Gates Foundation to media companies and other groups to influence the news.
As Professor Linsey McGoey, author of the book, No Such Thing as a Free Gift (2014) notes that the Gates Foundation "created one of the most problematic precedents in the history of foundation giving by essentially opening the door for corporations to see themselves as deserving charity claimants at a time when corporate profits are at an all-time high."
She uncovered a $19 million Gates donation to a Mastercard affiliate in 2014. Its aim was to increase the use of digital financial products by poor adults in Kenya. She points out that the donation was made at the time that the Foundation had substantial financial investments in Mastercard through its holdings in Warren buffet's investment company, Berkshire Hathaway. What's more, Buffett pledged $30 billion to the Gates Foundation.
James Love, the director of the nonprofit Knowledge Ecology International, a long-time critic of Gates states:
"He uses his philanthropy to advance a pro-patent agenda on pharmaceutical drugs, even in countries that are really poor. Gates is sort of the right wing of the public-health movement.
He's always trying to push things in a pro-​corporate direction. He's a big defender of the big drug companies.
He's undermining a lot of things that are really necessary to make drugs affordable to people that are really poor. It's weird because he gives so much money to [fight] poverty, and yet he's the biggest obstacle on a lot of reforms."
A Forbes report: Coronavirus Could Infect Privacy And Civil Liberties Forever (March 23rd ) The report focuses on how the big tech surveillance companies are exploiting the Coronavirus crisis:
"Facebook, Google and Microsoft have assumed a much greater 'public service' role in the wake of COVID-19's dissemination throughout the globe. And by increasingly acting like public services (that operate for private profit), they'll potentially increase not only their reach, but their respective abilities to extract and exploit personal data."

At risk is our civil liberties and privacy in the long term.

"Namely, surveillance capitalist corporations such as For example, Facebook today announced two initiatives related to using its Messenger app in order to communicate public health information…The thing is, Facebook is also capitalising on the coronavirus pandemic by pushing to increase the use of its Messenger app. If it can get UN health agencies and other health bodies to use Messenger, it will–by extension–get more members of the public to use Messenger. In turn, this means more data to mine and more people to target with ads.

More broadly, acting like a public service also means greater legitimacy, prominence and priority for what Facebook and other big tech companies do normally, when there isn't a life-threatening pandemic sweeping the globe. And increasingly, what such companies have been doing is harvesting more and more of our data in a way that ultimately erodes our personal autonomy and agency, all for the purposes of nudging us towards buying more products (or towards voting for this or that political candidate)."
Bill Gates has, in fact, financed the development of tech surveillance micro chips to be implanted in humanity.
On March 18th, 2020, Gates responded to a question during a Reddit "Ask Anything" session as follows.
Question:  how will businesses be able to operate while maintaining social distancing during the coronavirus pandemic?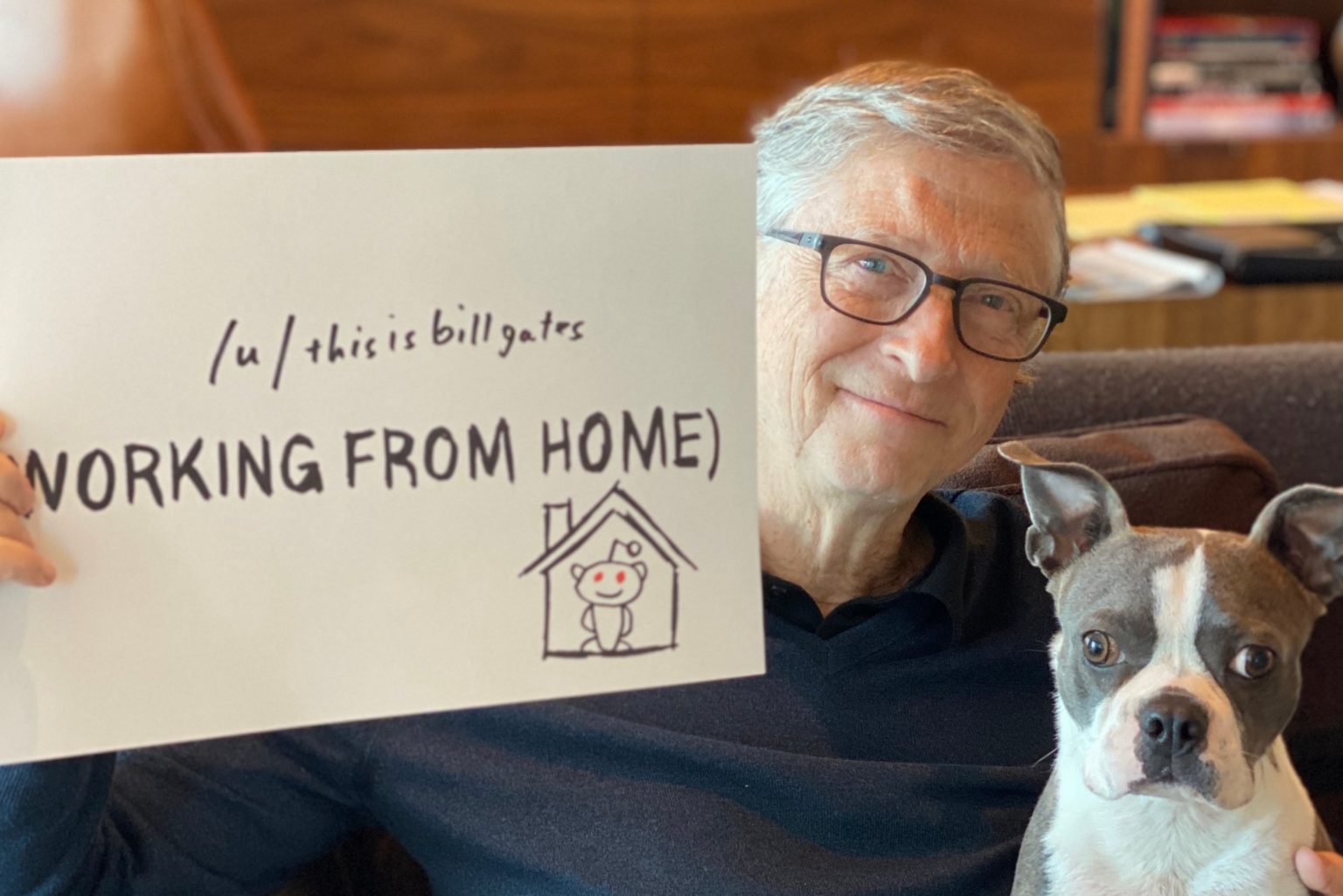 Gates responded:  "Eventually we will have some digital certificates to show who has recovered or been tested recently or when we have a vaccine who has received it."
His response, in a nutshell acknowledges the intent to utilize digital technology to gain control over people's compliance with government-dictated medical interventions – especially regarding compliance with vaccination — Bill Gates' particular obsession.
As Science Magazine reported: at Bill Gates' request, MIT has developed implantable tracking chips in human beings with funding provided by the Bill and Melinda Gates Foundation. [Read Micro-Chip Technology Resurrects Tattoo Identification + Medical Surveillance]
'QUANTUM-DOT TATTOO' identifies those who have not been vaccinated.
ID2020 is a microchip aimed at identifying 1 billion people who lack identity documents.
For this project, Gates formed an alliance that includes: Microsoft, Accenture, IDEO, GAVI, and the Rockefeller Foundation. The website describes ID2020 as: An Approach that is Holistic, Market-Based and Addresses the Full Scope and Scale of the Challenge:
"Closing the identity gap is an enormous challenge. It will take the work of many committed people and organizations coming together across different geographies, sectors and technologies. But it's exciting to imagine a world where safe and secure digital identities are possible." Peggy Johnson, Executive VP, Business Development, Microsoft Corporation
ID2020 is supported by the United Nations and has been incorporated into the UN's Sustainable Development Goals initiative
Radio-frequency identification (RFID) microchip implants, much like the ones used in animal farms in the US and Australia, and on luggage checked on Delta Airlines.
RFID implant will also be used for birth control which fits another B & M Gates Foundation population control project, FP2020, established in 2012.
The FP2020 goal, as described by Capital Research, is "a global war on the people of Africa, India, and Asia. The message promoted by FP2020 is "strikingly similar to the message promoted decades ago by the Population Council, which was John D. Rockefeller III's EUGENIC 'solution' to supposed world overpopulation."
In 2010, Bill Gates made a presentation at an invitation only TED 2010 Conference in California, Innovating to Zero , in which he expounded on climate change, depopulation and utilization of vaccines:
"The world today has 6.8 billion people. That's headed up to about 9 billion. Now if we do a really great job on new vaccines, health care, reproductive health services, we lower that by perhaps 10 or 15 percent."  [Read more at Voltaire Network]
The World Health Organization's Global Strategy, WHO Immunization Agenda 2030, is to leave no one behind. The specified goal of the Global Agenda 2030 is to vaccinate every man, woman and child on the planet by the year 2030. [Read more.] The world population is currently at 7 billion, 500 million people, a coronavirus vaccine, at a moderate price of $50, would generate $375 billion a year for just that one vaccine!
Consider what is at stake if we don't resist the blatant attempt at a power grab by the plutocrats with Bill Gates in the forefront. Their utilitarian business ethics extend to utilization of Eugenics' nefarious methods!
The elitist agenda of Eugenics was the catalyst for the alliance between the medical establishment and the Nazi regime. That evil partnership designed and executed the only medical Holocaust in history.
American jurists who formulated the Nuremberg Code in 1947, sought to prevent such a grotesque perversion of medicine from ever happening again.
The foremost, inviolable principle of the Nuremberg Code is the absolute right of every human being to voluntary, informed consent. It is crucial that we preserve this human right at all cost.
Those who seek to abrogate the individual right to informed consent seek to overthrow democracy and to establish a totalitarian regime; this time, a totally technologically-controlled regime.
Fomenting fear of an invisible infectious disease.
This strategy has been repeated whenever governments needed to distract the public from its failures. In 1976, government-recommended mass vaccination against the "Swine Flu" resulted in paralysis, respiratory arrest, and deaths. This debacle should have taught public health officials that in the face of scientific uncertainty about the safety of a vaccine, it is better to err on the side of caution.
We are all being put in a state of isolation; a well-known condition that generates highest anxiety. We are supposed to await the fast-track testing of a vaccine that may or may not cause more harm. The frenzied promotional hype about exceptionally fast-tracked vaccines whose manufacturers will be free of all liability, is accelerating:
What could be more frightening than this widely disseminated graphic? One would assume that the entire world is on fire!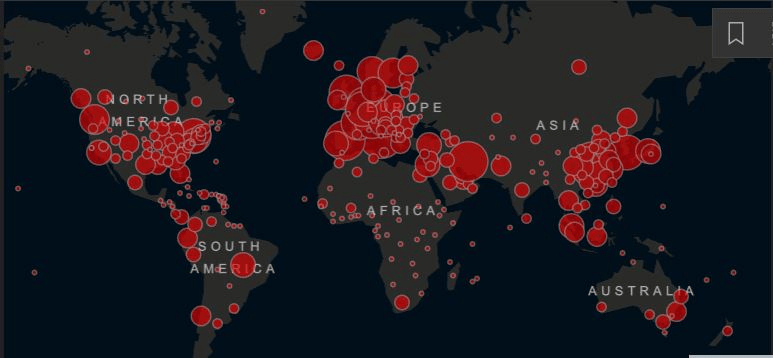 The graphic on the Johns Hopkins website of Worldwide coronavirus cases and the lockdown instructions grossly misrepresent the reality of the threat. The increasing number of cases represents the cumulative number of confirmed cases. In the US, the vast majority of people infected are untested, unconfirmed, and they mostly recover.
However, the shortages in medical supplies and equipment are real. Yet, physicians and nurses are forbidden to tell the truth! Medscape reports that Hospitals Muzzle Doctors and Nurses on PPE, COVID-19 Cases.
Question: Whose interest is served by fomenting fear and bringing the world to a disastrous economic down slide?
The Eugenics agenda of the elites is focused on gaining control over the global human population.
As long as we insist on exercising our freedom and the right to informed consent, they don't have total control over us.
The question is: Will the people who live in ostensible democracies accept government-dictates, and willingly give up their hard-won freedoms such as are guaranteed to US citizens under the First Amendment of the Constitution?
"Congress shall make no law respecting an establishment of religion, or prohibiting the free exercise thereof; or abridging the freedom of speech, or of the press; or the right of the people peaceably to assemble…"
Will the people cede their right to make medical decisions for themselves and for their children?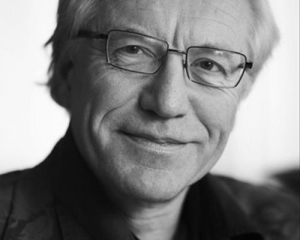 Jens Elo Ryter, law professor at the University of Copenhagen, recognizes the quantum leap backward when he stated:
"the situation is unprecedented in Danish political and legal history.
It is certainly the most extreme since World War II
. There have been strong interventions in various terrorist responses, such as after the terrorist attack in 2001, but this goes further." 
Will the people in Western democracies succumb once again, as they had succumbed to the Nazi scourge?