Once again, the Massachusetts Medical Society selected a professor from the Harvard School of Public Health, to replace Dr. Jeffrey Drazen as the Editor-in-Chief of the New England Journal of Medicine.
Dr. Eric Rubin is an endowed professor of Immunology & Infectious Disease and Chairman of the Department of Immunology and Infectious Diseases at Harvard School of Public Health. Harvard University, its medical school and its School of Public Health have deep corporate and academic ties to the pharmaceutical industry whose inordinate influence is a matter of public record.  Harvard serves as a major training and recruiting center for key leadership positions in medicine, public health and public policy.
Dr. Rubin's research lab focuses on developing a vaccine for tuberculosis, and on new infectious diseases spread by mosquitoes — such as Zika and dengue. Question is, will Dr. Rubin follow in Dr. Drazen's footsteps or in the prior Editors-in-Chief  — Dr. Marcia Angell and Dr. Jerome Kassirer — who denounce academic medicine's financial ties to industry?
The Ties that Bind                                             
The New England Journal of Medicine's Corrupting ties to Pharma:
As drug industry's influence over research grows, so does the potential for bias
NEJM reignites conflict-of-interest debate with reader poll
Selective Publication of Antidepressant Trials and Its Influence on …
Criticism of NEJM's defense of industry-physician relations
The New England Journal of Medicine: commercial conflict of interest and revisiting the Vioxx scandal, Indian Journal of Medical Ethics
There's More Than One Kind of Conflict of Interest in Medical …The New Republic
Dear NEJM: We both know that conflicts of interest matter. EMCrit
Xarelto controversy highlights need for more transparency at NEJM …
The pharmaceutical industry is no stranger to fake news – STAT
Ghost Management: How Much of the Medical Literature Is Shaped Behind the Scenes by the Pharmaceutical Industry?  PLoS Medicine
 Harvard Medical School in Ethics Quandary By Duff Wilson, The New York Times
Pharma Ties at Harvard Medical School, ProPublica
Harvard as Big Pharma, The Crimson
Harvard Medical Students Rebel Against Pharma-Ties   
Harvard and Pfizer Announce Industry-Academic Partnership Policy and Medicine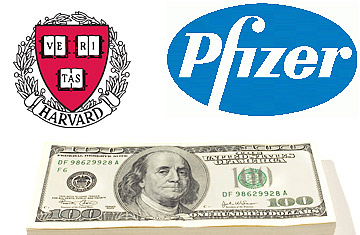 Aid Our Efforts: Donate!
Make a tax-deductible contribution today.