Measles and unvaccinated children are demonized — as genuine life-threatening infectious disease are proliferating; millions of Americans are affected; these diseases cause tens of thousands of deaths.[1]
Antibiotic Resistance Threats in the U.S. 2, 000,000 +          23,000 + Deaths[2]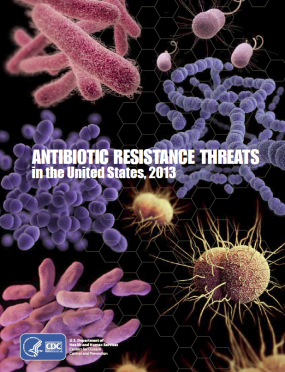 The Centers for Disease Control (CDC) acknowledges that:
"Antibiotic resistance is one of the biggest public health challenges of our time. Each year in the U.S., at least 2 million people get an antibiotic-resistant infection, and at least 23,000 people die".[3]
C. difficile                                   500,000                               15,000 deaths each year                 Neisseria gonorrhea                 246,000
MRSA                                              80,461                               11,285
The tragedy is, the cause is preventable. Despite sounding an alarm in its Threats Report in 2013, nothing has been done to prevent these diseases and high death toll. CDC has yet to update the 2013 report.
Antibiotic-resistant infectious diseases occur primarily the result of the irresponsible, widespread use of antibiotics in animals that are consumed by humans, as well as the over-prescribing of antibiotics.
difficilecolonizes in the intestine after disruption of normal intestinal microbiota. The number of children infected with CDI increased from 3,565 cases in 1997 to 7, 779 cases in 2006. CDC reports acknowledge that "C. difficile is a very important cause of infectious disease and death in the United States."[4][1] C. difficile infection (CDI) has been increasing since 2000; it is transmitted in hospitals – including neonatal intensive care unit (NICU) — and other healthcare facilities such as nursing homes.
CDC Director, Tom Frieden, MD, stated in 2015: "C. difficile infections cause immense suffering and death for thousands of Americans each year. These infections can be prevented by improving antibiotic prescribing and by improving infection control in the health care system."[5]
In the United States, a major contributing cause for the increase in CDI incidence is misuse of antibiotics. Exposure to multiple antibiotic classes are risk factors for pediatric CDI.[6]
CDC reports that CDI has become the most common microbial cause of healthcare-associated infections in U.S. hospitals and costs up to $4.8 billion each year in excess health care costs for acute care facilities alone.
Recent reports have challenged the belief that C difficile is less pathogenic in young infants and children.[vii][4] In one study, 26% of pediatric disease that had been treated as CDI occurred in children younger than one year of age; 5% of all CDI cases occurred in infants younger than one month of age.
Exclusive breast-milk feeding decreases the risk of persistent colonization compared to formula or mixed feeding. The susceptibility to C. difficile colonization might be because of the immaturity of the intestine and lack of protective intestinal microbiota.[v8]
CDC estimates that 17,000 children aged 1 through 17 are infected with difficile every year.
"Previous studies show that at least 50 percent of antibiotics prescribed in doctor's offices for children are for respiratory infections, most of which do not require antibiotics. 14,000 deaths every year among children and adults, remains at all-time high levels… the highest numbers were seen in white children and those between the ages of 12 and 23 months."[Highlight added]·Doctors practicing under the influence of pharmaceutical companies are prescribing antibiotics irresponsibly. The U.S. government disregards the massive misuse and overuse of antibiotics; negligence that results in the loss of tens of thousands of American lives. Is this one of the government's accommodations to Big Agra and Big Pharma?
·       In the face of the scourge of infectious diseases acquired from prescribed medicines that now affect tens of thousands of young children annually, the assault on parents who demand safer vaccines for their children is an unconscionable outrage. Those who have embarked on a shameless campaign to eliminate vaccine exemptions know that the risk posed by 200 measles cases is minimal. There are no annual measles-related deaths.
    If the effectiveness of antibiotics is lost, we will no longer be able to reliably and rapidly treat serious bacterial infections, including those in the bloodstream and bacterial pneumonias, foodborne illnesses, and healthcare associated infections.
Sexually Transmitted Diseases:[9]
In 1997, the Institute of Medicine described sexually transmitted diseases (STD) in the U.S. as "hidden epidemics of tremendous health and economic consequences. The scope, impact, and consequences of STDs are underrecognized by the public and healthcare professionals."[10]
In 2016, the Centers for Disease Control (CDC) reported that those facts remained unchanged: "It is estimated there are 20 million new STD cases in the U.S. each year."
In 2018, the Centers for Disease Control reported that for the past four years in a row, STD have increased sharply in the U.S: chlamydia, gonorrhea and syphilis reached 2.3 million in 2017, an increase of 200,000 since 2016.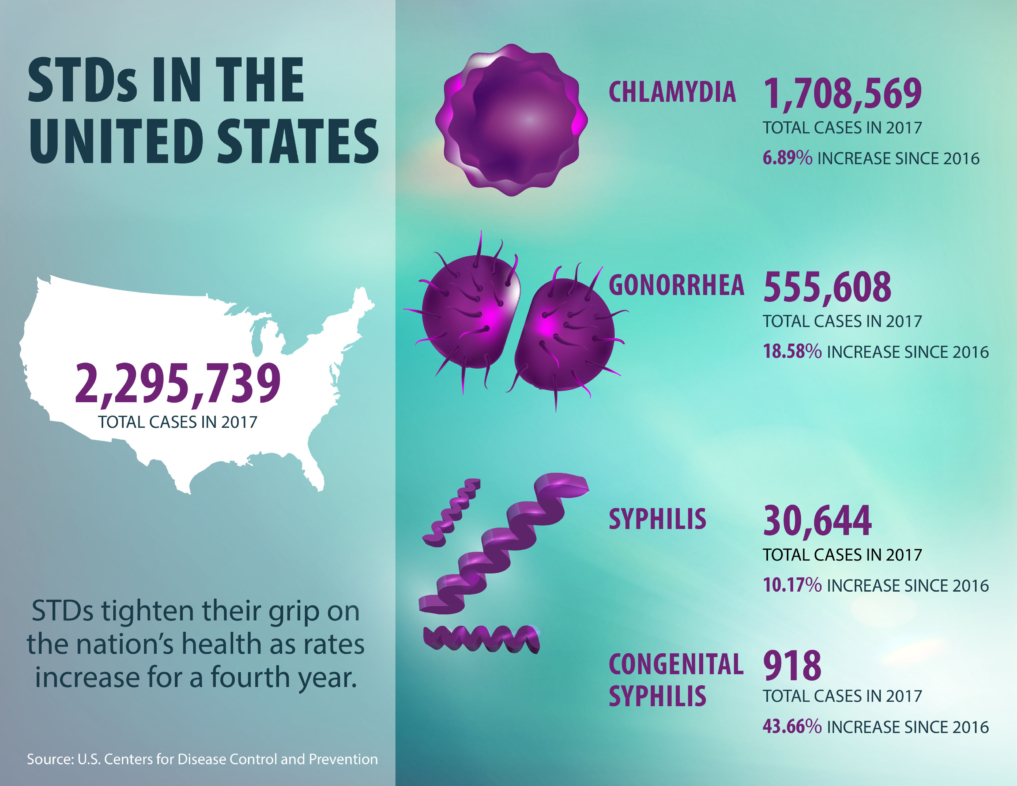 Chlamydia:    1,700,000 Cases (2017) an increase of 22% since 2013.
Nearly half of the cases were among adolescents and young women aged 15 to 24
Gonnorhea        550,000 new cases in 2017, an increase of 67% from 2013
 Syphilis              30,000 cases  in 2017, the number increased 76% since 2013
Congenital Syphilis 2017:  918 babies; 64 stillbirths;   13 infant deaths[11]                                      1,008,000 cases                   15,807 deaths
Nearly half of the cases are adolescent and young women, aged 15 to 24.
Although chlamydia and gonorrhea often lurk without symptoms for a time, they are causing serious, irreversible damage to women's reproductive system, and can be passed to a baby during delivery. Both diseases can also cause pain and abnormal discharge or bleeding, and can be passed to a baby during delivery.
As Syphilis progresses it causes serious neurological, vision and other symptoms; it is highly infectious, and in pregnant women the disease causes brain damage and death in babies in utero.
Urgent and Serious Infectious Disease Epidemics in the U.S
Why the obsessive focus on 200, mostly benign measles cases, in the face of raging catastrophic deadly infectious diseases?
  Congenital syphilis, affecting newborn babies has sharply increased in the U.S. In the past four years, the cases have more than doubled; from 362 cases in 2013, to 918 cases in 2017.  CDC STD Suveillance Report confirm that the rate of syphilis has increased more than 72% since 2013, and since 2016, the rate increased 10%. [8]
"Untreated syphilis in pregnant women, if acquired during the four years before delivery, can lead to infection of the fetus in up to 80% of cases and may result in stillbirth or death of the infant in up to 40% of cases."[8]
Congenital Syphilis — Reported Cases by Year of Birth and Rates of Reported Cases of Primary and Secondary Syphilis Among Women Aged 15–44 Years, United States, 2008–2017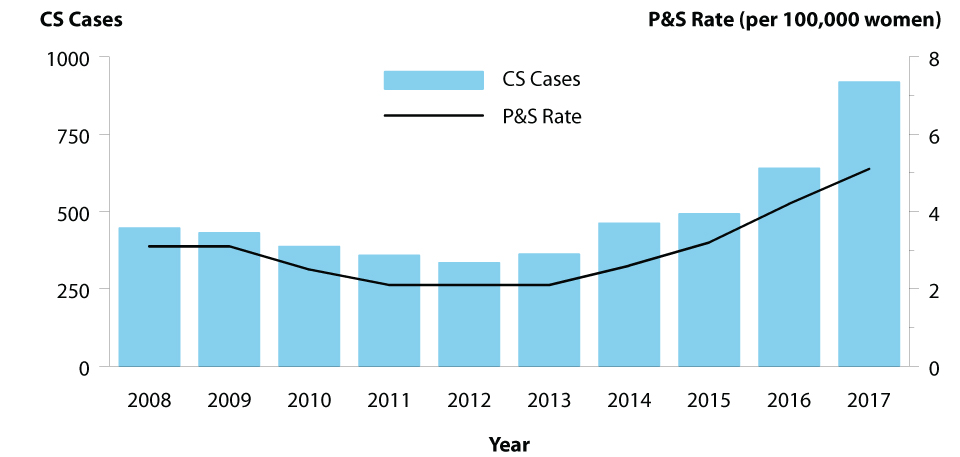 ACRONYMS: CS = Congenital syphilis; P&S = Primary and secondary syphilis.  Source: https://www.cdc.gov/std/stats17/figures/49.htm
CDC surveillance data found that recent increases in sexually transmitted diseases (STDs) have continued for four consecutive years: nearly 2.3 million cases of chlamydia, gonorrhea and syphilis were reported to CDC for 2017, exceeding the previous 2016 record by more than 200,000.
   Since 2013, the rate of congenital syphilis has increased each year.
   In 2017, there were a total of 918 reported cases of congenital syphilis, including 64 syphilitic stillbirths and 13 infant deaths.
   Why the obsessive focus on 200, mostly benign measles cases, in the face of raging catastrophic deadly infectious diseases?
References
[i] Case numbers and deaths obtained from National Notifiable Infectious Diseases and Conditions: United States, CDC https://wonder.cdc.gov/nndss/static/2017/annual/2017-table1.html
[ii] https://www.cdc.gov/drugresistance/biggest_threats.html;
[iii] CDC https://www.cdc.gov/drugresistance/biggest_threats.html;
https://wonder.cdc.gov/nndss/static/2017/annual/2017-table1.html
[iv] CDC  Nearly Half A Million Americans Suffered From Clostridium Difficile Infections In A Single Year. 2015 https://www.cdc.gov/media/releases/2015/p0225-clostridium-difficile.html
[v] CDC. https://www.cdc.gov/media/releases/2015/p0225-clostridium-difficile.html
[vi]  Clostridium Difficile In Paediatric Populations, Upton D Allen, Paediatrics Child Health, 2014
[vii] (Clostridium Difficile In Paediatric Populations, Upton D Allen, Paediatrics Child Health, 2014
[viii]  Clostridium difficile in Children: To Treat or Not to Treat? Jung Ok Shim, Pediatric Gastroenterology, Hepatology, Nutrition, 2014
[ix] https://www.cdc.gov/std/stats17/natoverview.htm
[x] Eng TR, Butler WT, editors; Institute of Medicine (US). Summary: The hidden epidemic: confronting sexually transmitted diseases. Washington (DC): National Academy Press; 1997
[xi] HIV in the U.S. https://www.cdc.gov/hiv/statistics/overview/ataglance.html;