NPR's six month investigation shows the continued utter disregard the Veterans Affairs Department has for it suffering veterans who had been abused as human guinea pigs in mustard gas experiments. NPR created the first publicly searchable database including 3,900 names
Charlie Cavell –WW II Vet subjected to military's secret mustard gas experiments — at his home in Virginia.

Charlie Cavell was 19 when he volunteered for the program in exchange for two weeks' vacation."We weren't told what it was. Until we actually got into the process of being in that room and realized, wait a minute, we can't get out of here."

He recalls how he and 11 other volunteers were locked inside a gas chamber with mustard gas piping inside. Blocks of ice sat on shelves overhead with fans blowing across them to increase the humidity in the room, which intensified mustard gas's effects on the body. After an hour, the officer released six of the men back to their barracks. Cavell and five others were told to stay put.

Inside the chamber, Cavell's skin started to turn red and burn in the places where he sweat the most: between his legs, behind his neck and under his arms. Blisters that eventually increased to the size of half dollar coins started to grow in the same places. At the end of the second hour, the officer ordered Cavell back to his barracks and to continue wearing his gas-saturated uniform.
In the early 1990s, VA officials also announced the agency would lower its burden of proof to make getting benefits easier in these cases. The process typically relies on evidence, but most of the men in these experiments have none because the tests were done in secret.

"This is not an easy, not a simple thing," [Brad] Flohr [VA senior adviser for benefits] says. "But we have done everything that we could do, I definitely believe that."

The VA created a list of illnesses that are linked to mustard gas exposure — such as skin cancer, leukemia and chronic breathing problems. According to the agency, if a veteran has an illness on the list and can prove he was exposed, he receives benefits.

But NPR interviewed veterans who met both of those requirements and have still been denied for years — sometimes decades — as the VA continues to request more information and proof. ….

After NPR's inquiry, the VA told NPR there was enough evidence to grant his claims. They based that conclusion on the same information that had been sitting in his VA file for decades. Officials say they can't explain why the benefits weren't granted sooner. Cavell is currently being re-evaluated before the benefits can be disbursed.

Former CIA Director Porter Goss says the VA has mishandled these claims. Goss was a Florida congressman when he was contacted by a group of constituents who were used as test subjects and spoke out on their behalf. "This should have been ancient history by now," he told NPR. "And these people should have long been appropriately provided for."

Goss says he thinks the VA never delivered on its promises because this issue has been disappearing on its own for years.

Harry Maxson,                      Louis Bessho,           Rollins Edwards,             Paul Goldman,                        Sidney Wolfson  US Soldiers used as Guinea Pigs in mustard gas experiment in WWII

About 500 World War II veterans die each day, according to data maintained by the VA. "I do think there is a little bit of that attitude of: 'This is today's problem, it will be gone by tomorrow,' " Goss says. "But this is a bargain we made. And this goes to the essence of 'Can you trust your government?' And in this case I'm afraid the answer is not yet."

Congress has intervened in similar situations. It passed the Agent Orange Act in 1991, which requires the VA to assume that all veterans who served in and around Vietnam were exposed to the chemical. And in 2010, the VA announced it would review 90,000 previously denied Agent Orange claims. To date, these policies have not been applied to World War II vets who were exposed to mustard gas.

Officials at the Pentagon tell NPR it's likely that some of the records about military mustard gas experiments were never recovered. And yet Flohr insists the VA still needs proof in order to grant claims.

"I'm sorry," Flohr says. "But the only thing we can do is follow our statutes and regulations."

Those regulations have kept veterans like Harry Bollinger, 88, from receiving benefits. Bollinger still has chronic breathing problems and breaks out in eczema in places where he was burned as a young Navy recruit:
NPR interviewed more than 40 living surviving veterans who were subjected to mustard gas experiments as soldiers. In its second report, NPR presents the poignant stories of some of these elderly survivors.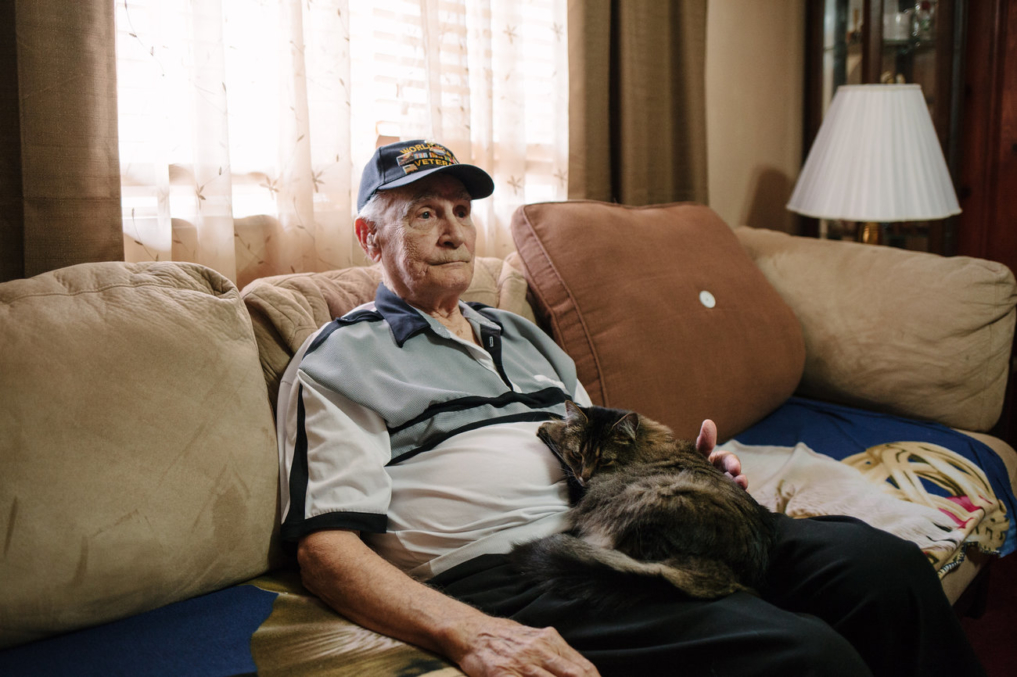 Harry Bollinger gave up appealing VA rejections in 1994, after four years of traveling back and forth 30 miles to a VA office office in Pittsburgh. Then, in 1996, Bollinger received a military commendation in the mail. The document acknowledges his participation in mustard gas experiments. But Bollinger says he wouldn't go back to the agency after the way he was treated there. "I was disgusted already. What's the use?" he says.
He  said "U.S. Navy, Guinea Pig, that's going to be on my tombstone." And he added, "that won't be too long now probably."
Update: Since the report was published, more than two dozen members of Congress have written to McDonald demanding an explanation for the failures and calling for the swift disbursement of benefits for veterans who are still living. In her letter Thursday, McCaskill wrote: "I am trying to help the remaining veterans before time runs out. This makes the VA's refusal to provide answers in a timely fashion all the more unacceptable."
(Read also, "Racialized Science" and NPR. World War II Secret Mustard Gas Testing, 2015)