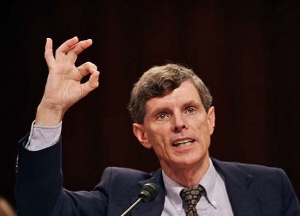 David Graham, MD, FDA's Associate Director of Science and Medicine who, throughout his career, has been a thorn for FDA managers by identifying hazardous drug effects. In 1999, his data helped identify the risk of liver damage from Pfizer's diabetes drug Rezulin — which eventually was withdrawn from the market.
In 2004, he emerged as the most prominent FDA whistleblower whose riveting Congressional testimony was front-page news. He characterized FDA's mishandling of Merck's Vioxx licensure as "the worst preventable public health disaster in its history, resulting in 88,000 to 139,000 heart attacks of which 30,000–55,000 were fatal." He further identified five other drugs with lethal risks whose use is medically unjustifiable: the acne drug, Accutane, the anti-inflammatory cox-2 inhibitor Bextra, the statin, Crestor, the diet drug, Meridia (withdrawn 10/8/2010), and the asthma drug, Serevent. His authoritative testimony showed how FDA leadership was endangering public health by ignoring or covering up lethal risks of widely prescribed prescription drugs. He stated that "the FDA, as currently configured, is incapable of protecting America against another Vioxx. We are virtually defenseless."
Forbes honored Dr. Graham's courageous testimony with its "Face Of The Year" award, noting:
Without Graham, the Vioxx debacle might have been seen as an isolated event. But because he was willing to step into the spotlight, the withdrawal of Vioxx from the market looks like part of a systemic failure to properly weigh the risks and benefits of drugs. To hear Graham tell it, this is part of a systemic failure to address drug safety on the part of the FDA.
Dr Graham continued his steadfast advocacy on behalf of the "290 million patients" by blowing the whistle on dangerous drugs based on the large samples of data that he has examined. For example, he estimated that 62,000 deaths each year are attributable from the off-label use of atypical neuroleptic drugs; the agency's preliminary analysis of millions of medical records suggested an increased risk of strokes and arrhythmias from ADHD drugs. Dr. Graham noted that "Arrhythmia is believed to be the pathway for sudden unexplained death." In 2006 FDA was forced to add Black Box warnings to ADHD drugs.