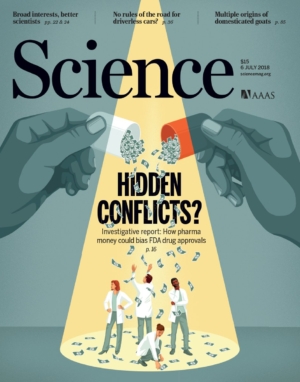 A gangbusters investigative report by Science Magazine (July 2018) documents FDA's disregard of substantial financial conflicts of interest by the advisory panel members that FDA selects. What's more, the reporters uncovered a previously overlooked stream of company kickbacks to doctors on FDA advisory panels who voted to approve their drug.
Reporters Charles Piller and Jia You examined physician disclosure statements in publications by the Centers for Medicare & Medicaid Services, and analyzed the flow of payments to 107 physicians who served on FDA advisory committees that approved on 28 drugs between 2008 and 2014.
They examined (a) direct payments to physicians from companies whose drugs they voted on; (b) payments from competitors selling or researching drugs of the same class; and (c) corporate research grants to FDA advisers – either directly or through their institutions.  Among their key findings:
Of 107 physician advisers who voted on the committees Science examined, 40 over a nearly 4-year period received more than $10,000 in post hoc earnings or research support from the makers of drugs that the panels voted to approve, or from competing firms; 26 of those gained more than $100,000; and seven more than $1 million.
Of the more than $26 million in personal payments or research support from industry to the 17 top-earning advisers—who received more than $300,000 each—94% came from the makers of drugs those advisers previously reviewed or from competitors.
Most of those top earners—and many others—received other funds from those same companies, concurrent with or in the year before their advisory service. Those payments were disclosed in scholarly journals but not by FDA.
"Such money—including associated research funding" Science notes, affects a scientist's career advancement, compensation, or professional influence."  
Although FDA officials knew of those conflicts and cash kickbacks, they did not disclose those financial ties to the public or the medical community. Science Magazine (July 2018) cites  several dubious examples of FDA advisory panel recommendations. Approval of AstraZeneca's drug Brilinta®  in 2010, which the company pitched as a drug that prevents heart attacks and strokes by reducing blood clotting. Science reports that:
"Before the Brilinta vote, the agency mentioned no financial conflicts among the voting panelists, who included four physicians. As Brilinta's sales took off later, however, AstraZeneca and firms selling or developing similar cardiovascular therapies showered the four with money for travel and advice. For example, those companies paid or reimbursed cardiologist Jonathan Halperin of the Icahn School of Medicine at Mount Sinai in New York City more than $200,000 for accommodations, honoraria, and consulting from 2013 to 2016. During that period, Halperin got $7500 from AstraZeneca to study Brilinta, and the company separately declared nearly $2 million in "associated research" payments tied to him".
The drug became a billion-dollar blockbuster selling at 25 times the cost of a currently available competitor, without commensurate clinical advantage.
A notorious example of the corrupt FDA drug approval process is the approval by two FDA advisory panels of Astra Zeneca's antipsychotic drug Seroquel. In 2009, two FDA advisory panels approved expanded use of the drug for new conditions—schizophrenia and bipolar disorder in children, and depression in adults who are taking other medicines. Those approvals occurred despite evidence that Seroquel was linked to  sudden cardiac deaths when used with certain drugs. Indeed, several of the aggressively marketed antipsychotic drugs similar to Seroquel also had a record of cardiac fatalities.  But, as Science reports AstraZeneca presented results from its clinical studies, which company representatives claimed, at worst, showed only minimal risks. In fact, evidence from Seroquel clinical trials included suicides and gross negligence. [See Seroquel Archives]
In the years afterward, several FDA advisers received significant financial support from AstraZeneca and the makers of competing drugs. The biggest payments went to Duke cardiologist Christopher Granger, who sat on one of the two groups. From 2013 to 2016, the period recorded by Open Payments, he or Duke on his behalf received more than $63,000 from AstraZeneca and $1.3 million from competitors. According to conflict-of-interest disclosures in journal articles on which Granger was an author, he received additional, unspecified amounts from those companies between 2010 and 2012.

Granger says the industry funds solely underwrote research on cardiovascular topics and did not augment his salary. But according to the federal data, more than $400,000—including all of AstraZeneca's portion—went to him for travel, consulting, and honoraria.

The next year, in 2010, AstraZeneca paid the government $520 million to settle lawsuits involving alleged improprieties in the company's clinical trials and improper marketing of Seroquel for unapproved conditions. The company, which denied wrongdoing, pulled in more than $5 billion in revenues from the drug that year. In 2011, after mounting evidence of sudden cardiac deaths, FDA forced AstraZeneca to add a warning to Seroquel's label that the drug posed risks of fatal cardiac events when combined with certain other drugs.

The agency's financial review process is primarily an honor system and seems to miss obvious conflicts. For the 17 physicians receiving the most compensation after a drug advisory vote, Science examined whether they also received industry compensation concurrent with or shortly before their FDA service. Evidence of such payments came from conflict-of-interest statements in journal articles that those authors published near the time of their advisory role. Eleven physicians acknowledged support from competing companies on one or more drugs they reviewed. Five of those also received such funding from the makers of one or more of the drugs. Yet FDA publicly noted none of those apparent conflicts and issued no conflict waivers.
This is a ground breaking report by a widely read publication of the American Association for the Advancement of Science (AAAS); it clearly demonstrates that "disclosure" in publications is no barrier to corrupting financial ties between Pharma and influential academic medical experts. Dr. Carl Elliott, one of the very few honest medical ethicists points out: "Even in the best of circumstances, disclosure is a remarkably weak way of controlling conflicts of interest. A better way would simply be for the FDA to say, 'We are not taking anybody with any kind of conflict on an advisory committee.'"