The UK Independent reports, "Thousands of Teenage Girls Report Feeling Seriously Ill After Routine School Cancer Vaccination" ( Sept 16, 2015)  The past four years have turned into a nightmare for some young girls who were vaccinated with the HPV vaccine:
"Emily Ryalls is one of the thousands of teenage girls who have reported feeling seriously unwell following the routine vaccination since the immunisation programme was introduced in 2007. She is yet to recover and has no idea when her health will return to normal."

"The symptoms grew increasingly worse after the second and third injections, and I went to A&E several times with severe chest and abdominal pains as well as difficulty breathing," Emily, now 17, said. "One time I couldn't move anything on one side of my body. I didn't know what was happening."
The British Medicines and Healthcare Products Regulatory Agency (MHRA) acknowledges that in the HPV category alone, 8,228 suspected adverse reactions were reported, of which 2,587 were classified as "serious" — defined by criteria including hospitalization or deemed life threatening, or was regarded as serious by the individual reporting the event. They further acknowledge that those reports do not reflect the true number of suspected ADRs because of "unknown and variable level of under-reporting."
However, MHRA officials stated publicly that the MHRA is not concerned about the number of ADRs related the HPV vaccine. They recite the manufacturers' mantra:
"The vast majority of suspected side effect reports for HPV vaccine relate to known risks of vaccination that are well described in the available product information. The reporting rate of suspected side effects, which are not necessarily proven to be caused by the vaccine, is influenced by many factors and expected to differ across vaccines. The greater number of reports for HPV vaccine does not necessarily mean that it is any less safe than other vaccines."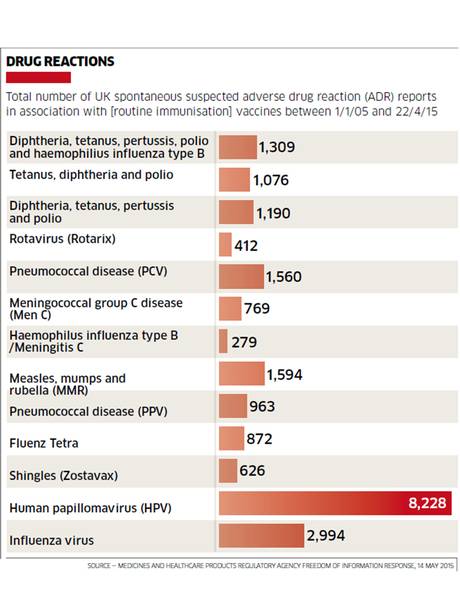 The MHRA estimates that only about 10% of ADRs are reported to the MHRA. In the U.S. the FDA also estimates that ADR reports to FDA's MedWatch constitute only about 10% of actual adverse drug reactions. Despite the evidence that adverse reactions following vaccination are reality based, victims and their families who report adverse vaccine reactions to their doctors are met with "rolled eyes."
"Every visit to a doctor was met with rolled eyes," said Mrs Ryalls. "Every mention of the HPV vaccination was met with hostility and ridicule. We were eventually referred to a local paediatrician who told her to push herself to get back to normal – 'We all feel tired in the mornings, Emily' was one of the remarks regarding her complete exhaustion."
Emily's mother and about 80 families in the UK are taking action. They have formed the Association for HPV Vaccine Injured Daughters (AHVID) to bring families with girls suspected of suffering side effects from the HPV vaccine together.
"We want to have a stronger voice and we are pushing hard for regional treatment and assessment centres along the lines of Denmark and Japan. We want increased reporting of adverse reactions, better educational support and greater transparency and information to enable parents to make an informed decision regarding consent to HPV vaccination."