Donald J. Trump @reallDonaldTrump twitted:
"Scott Gottlieb, who has done an absolutely terrific job as Commissioner of the FDA, plans to leave government service sometime next month….  ….Scott has helped us to lower drug prices, get a record number of generic drugs approved and onto the market, and so many other things. He and his talents will be greatly missed!"
In his final weeks as FDA commissioner, Dr. Gottlieb approved a controversial, "fast-acting" ketamine nasal-spray (esketamine, Spravato®), as an antidepressant. This approval follows on the heels of his approval (in November 2018) of an opioid ten times more potent than fentanyl, the opioid that has caused the catastrophic opioid addiction crisis in the United States; that drug has killed 49,000 people in 2017 alone!
The opioid sufentanil (Dsuvia,®) was approved by Dr. Gottlieb despite strong opposition by the Chairman of FDA's advisory committee, Dr. Raeford Brown, professor of anesthesiology and pediatrics, who issued a joint statement with Public Citizen:
"Clearly the issue of the safety of the public is not important to the commissioner, despite his attempts to obfuscate and misdirect."(The Washington Post).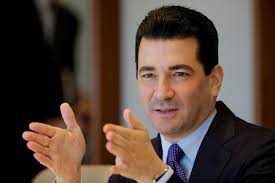 Dr. Scott Gottlieb
Dr. Gottlieb's approval of a "fast-acting" ketamine nasal-spray as an antidepressant,  developed by Janssen Pharmaceutical (a division of Johnson & Johnson), was in contradiction to FDA's requirement that before the approval of a new drug, it had to outperform a placebo in two trials.
The New York Times reports that when the evidence from J & J's own trial of the ketamine spray vis-a-vis placebo, failed to reduce depression by more than 4 points above placebo — on a 60-point depression scale —  "the agency loosened its criteria for esketamine".
The FDA commissioner approved the nasal spray based on J & J's claim that in its relapse trial 25% of patients who were treated with the ketamine spray relapsed, compared to 45% of patients on placebo. However, in people aged 65 or older, J & J's "antidepressant" was "barely better than placebo."
Despite all the failures, psychiatry's love affair with the drug industry has not been dampened.  Each and every new chemical intervention — no matter how poorly its safety was evaluated — was touted as  a "breakthrough" in the treatment against depression, anxiety, mania, psychosis, attention-deficit-disorder — or any other condition classified as a "mental disorder"– has been introduced with superlative endorsements by psychiatry's leadership. [1]
Ketamine was developed more than fifty years ago as a safer alternative to the anesthetic phencyclidine, or PCP.  However, Ketamine's chemical structure and mechanism of action are similar to those of PCP.
Ketamine is a dissociative anesthetic that distorts perceptions of sight and sound and produces feelings of detachment from self and the environment. Dissociative drugs are hallucinogens that cause a person to feel detached from reality. Ketamine is used mostly in veterinary medicine. The National Institute of Drug Abuse, classifies ketamine, GHB, MDMA (ecstasy) and methamphetamine as "Club Drugs" that are abused as hallucinogenics. In that milieu, Ketamine was known as "Special K"
Like PCP, Ketamine has triggered severe psychotic episodes in mental patients. [1]
An enthusiastic booster of  J & J's Spravato®, is Dr. Carlos Zarate Jr. chief of the experimental therapeutics and pathophysiology branch of the National Institutes of Mental Health. However, Dr. Erick Turner, a former FDA reviewer, is more skeptical of the hype, "because in this world it's like Lucy holding the football for Charlie Brown: Each time we get our hopes up, the football gets pulled away."
Dr. Zarate acknowledges:
"For now, no one knows whether esketamine, or any of the other ketamine-based compounds being studied, are any more effective than the generic anesthetic itself — or, for that matter, whether the out-of-body and hallucinatory "side effects" are in fact integral to its antidepressant properties."For that, we will need head-to-head studies. And we don't have those yet."
Whether or not this "antidepressant" will trigger hallucinatory effects in depressed patients, that endanger both patients and those close to them , Dr. Gottlieb has awarded Johnson & Johnson with a financial bonanza:
"The wholesale cost for a course of treatment will be between $2,360 and $3,540, said Janssen, and experts said it will give the company a foothold in the $12 billion global antidepressant market, where most drugs now are generic."
References:
1. Read Pharmageddon, by psychiatrist Dr. David Healy
2. Chemically Induced Psychosis Experiments
Aid Our Efforts: Donate!
Make a tax-deductible contribution today.