Burkina Faso's Bt cotton reversal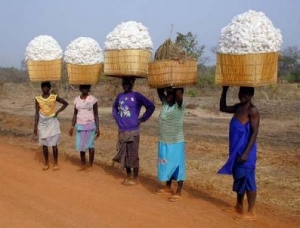 Cotton is the second major source of revenue for the impoverished West African country. Gold is its primary revenue source. Whereas for many years publicity about Bt cotton growers in Burkina Faso claimed outstanding benefits, in January 2016, the truth suddenly surfaced: "Burkina Faso phasing out GMO cotton, citing poor quality."   Cotton companies are even suing Monsanto for $83 million in GMO crop failure.  
Glenn Davis Stone, a Professor of Anthropology and Environmental Studies at Washington University in St. Louis, who has has conducted extensive research in West Africa, India, Philippines, and the U.S., was well as additional fieldwork in Thailand and England. He has also done laboratory work at the Donald Danforth Plant Science Center. In August, 2016,  professor Stone reported about the news  reported in Africa News that farmers in Burkina Faso (Africa) were phasing out GMO cotton. The reason: poor quality. 

"Burkina Faso's Bt cotton reversal: Why Africa's largest producer of GM cotton is phasing out production and what this means for GM crops in Africa" by Brian Dowd-Uribe (International Studies, Univ San Francisco. ) and Matthew Schnurr (International Development Studies, Dalhousie University) have written extensively on GM crops in sub-Saharan Africa.
"The main evidence of Bt cotton outcomes in Burkina Faso comes from a group of Monsanto-funded studies conducted by one research team. Their early studies from 2009 showed that Bt cotton produced yield gains of 18.2 %, which boosted profits despite higher Bt seed cost. However these studies did not report how those yield advantages were calculated….By 2014, farmers were cultivating Bt cotton, representing 70% of total cotton production in one of Africa's largest cotton producing nations."
Reality check to "success story":
"In 2016, Burkinabè cotton officials claimed that the Bt cotton varieties produced lint of inferior quality resulting in tens of millions of dollars in lost revenues. The Bt cotton lint fetched lower prices on the global market and undermined the global reputation of high quality Burkinabè lint."
One outcome of Burkina Faso's reversal is the tarnishing of the image of GM crops as precise and universally beneficial. Bt cotton shifted the focus of breeding efforts from producing varieties that exhibited a diversity of quality, to a narrower focus on pest resistance – which, although desirable, is Not the primary goal. 
Monsanto shifted cotton breeding efforts from being exclusively public in nature to a more privately driven endeavor. The private nature of transgenic research resulted in varieties that were rushed to market. Instead of spending the money and time to ensure that desired quality characteristics were maintained, Monsanto and their cotton company partners released the Bt cotton varietals to farmers. This dynamic of desiring a quick return on investment is likely to accompany other GM crop introductions in Africa.
This case underscores the disconnect between farmers' goals with Monsanto's singular goal. Farmers seek to grow, not only high yield crops but also the best quality products; while Monsanto's singular goal is to increase profits — without any regard for farmers or local indigenous factors.
 "I'm choosing on yield capabilities and plant characteristics more than I am on G.M.O. traits.  Yield is still driven by breeding plants to bring out desirable traits, as it has been for thousands of years.