Public health officials, who have insisted that we must trust their expertise and authoritative "science-based" recommendations, have demonstrated their ineptitude and poor judgment. At a time when we are threatened by the worst public health crisis in memory, the US public health system has proven itself to be a disaster in need of a total overhaul. Those entrusted with protecting the public failed to ensure that strategic stockpiles of medical supplies and critical equipment were adequate in case of an emergency. That has caused the current crisis.
The single minded focus of the public health officials on the next vaccine – in particular the focus of the leadership of Centers for Disease Control — left us, the people, unprotected in the here and now. Whereas other countries began rapid testing as early as the first week in February, US public health officials delayed crucial testing for COVID-19, resulting in its spread rather than containment.
Dr. Anthony Fauci, Director of the National Institute of Allergy and Infectious Diseases
It is prudent, therefore, to seek guidance from untainted, independent medical professionals who are not invested in defending their failure to take appropriate action. Given the public health crisis facing us, what, one wonders, is the real reason behind the resistance public health officials have shown to the use of FDA-approved medicines that have been in use for decades – and have, therefore, a record of safety and efficacy against another infectious disease? At issue are the drugs Chloroquine, Hydroxychloroquine, drugs that have long been used to treat malaria, and the antibiotic drug, Azithromycin, that has been found effective in the treatment of respiratory infections.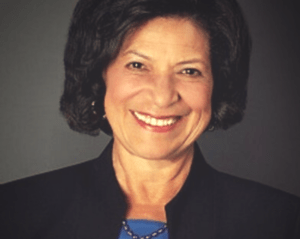 Marilyn M. Singleton, MD, JD of the Association of American Physicians and Surgeons makes sensible recommendations that will avert this public health crisis from becoming catastrophic.
"While scientists are furiously experimenting with possible vaccines, the virus is sprinting from country to country despite travel restrictions. There are likely among us "healthy carriers" of the virus who have no signs or symptoms of the disease but can infect others. So if CoViD-19 is here for a while, the world has to look to effective treatments of afflicted individuals today—not a year from now. Some researchers seem to have found a strong contender.
Separate studies from a major medical center in France and jointly from South Korea and China have found that inexpensive, readily available anti-malarial drugs chloroquine phosphate or hydroxychloroquine are an effective treatment. But the Federal Drug Administration (FDA) is dragging its feet, despite the President's urgings, to approve the drug for anti-viral use. Dr. Anthony Fauci, the director of the National Institute of Allergy and Infectious Diseases and the White House's advisor has dismissively called the studies "anecdotal" meaning "based on or consisting of reports or observations of usually unscientific observers."
In 2004, separately a Belgian virologist and our Centers for Disease Control and Prevention found that chloroquine inhibited SARS-CoV growth in primate cells when given before or after exposure to the virus. Human trials could not be done because thankfully the SARS epidemic had just ended. Fast forward to February 2019. In South Korea, these drugs were given by physicians and scientists in the CoViD-19 Central Clinical Task Force. These studies showed "certain curative effect" with "fairly good efficacy." Further, patients treated with chloroquine demonstrated a better drop in fever, improvement of lung CT scan images, and required a shorter time to recover compared to parallel groups.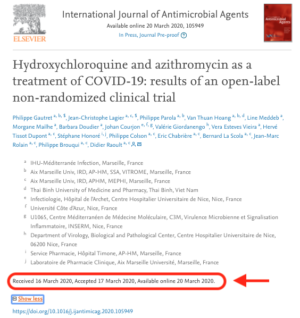 More promising is a study of 36 patients actively ill from CoViD-19 by a noted research team from France. Of the 20 patients treated with hydroxychloroquine alone, 70 percent had no detectable virus within 6 days; those treated with hydroxychloroquine and azithromycin (an antibiotic with some anti-viral action) had a 100 percent success rate. Yes, the study is small, but these are extraordinary times.
On March 22, Gov. Cuomo announced that the FDA is allowing New York state to start a trial of hydroxychloroquine and azithromycin. Let's move on this!
Chloroquine and hydroxychloroquine are approved by the FDA for malaria, rheumatoid arthritis, and systemic lupus erythematosus. The FDA is well aware that physicians prescribe plenty of drugs that are "off label," that is drugs approved by the FDA for other conditions. Indeed, one fifth of all prescriptions are off label.
References to scientific studies:
Chloroquine is a Potent Inhibitor of SARS Coronavirus Infection and Spread. Virology Journal, 2005. Martin J. Vincent (CDC), Suzanne Benjannet (Institut de Recherches Clinique de Montréal), Eric Begeron (CDC), Bobbie R. Erickson (CDC), Pierre E Rollin ( CDC), Thomas G Ksiazek (U. of Texas), Nabil G Seidah (Institute de Recherches Clinique de Montréal), Stuart T Nichol (Korea CDC)
An Effective Treatment for Coronavirus (COVID-19) Presented by: James M. Todaro, MD (Columbia MD, jtodaro2@gmail.com) and Gregory J. Rigano, Esq. (grigano1@jhu.edu)
In consultation with Stanford University School of Medicine, UAB School of Medicine and National Academy of Sciences researchers. March 13, 2020
Hydroxychloroquine And Azithromycin As A Treatment Of COVID-19: Results Of An Open-Label Non-Randomized Clinical Trial. Philippe Gautret, Jean-Christophe Lagiera,c, Philippe Parolaa,b, Van Thuan Hoanga, Line Meddeb, Morgane Mailhe, Barbara Doudier, Johan Courjone, Valérie Giordanengo, Vera Esteves Vieira, Hervé Tissot Duponta, Stéphane Honoréi, Philippe Colsona, Eric Chabrière, Bernard La Scola, Jean-Marc Rolain, Philippe Brouqui, Didier Raoult. 2020
Novel Antiviral Properties Of Azithromycin In Cystic Fibrosis Airway Epithelial Cells Aline Schögler, Brigitte S. Kopf, Michael R. Edwards, Sebastian L. Johnston, Carmen Casaulta, Elisabeth Kieninger, Andreas Jung, Alexander Moeller, Thomas Geiser, Nicolas Regamey, Marco P. Alves. European Respiratory Journal 2015 45: 428-439; DOI: 10.1183/09031936.00102014