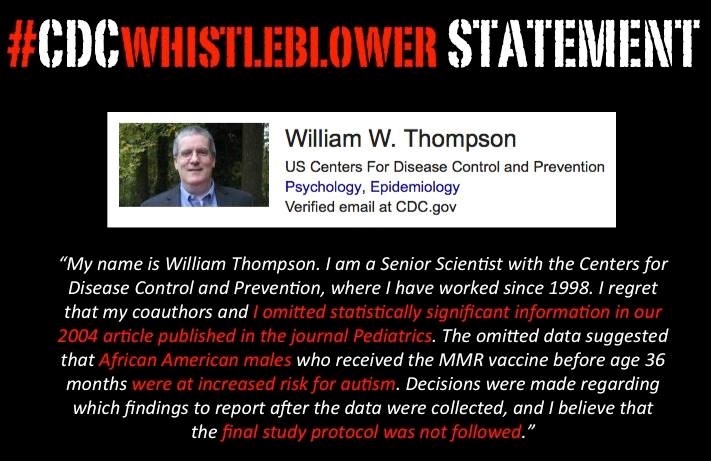 Senior CDC scientist blows the whistle acknowledging fraud.
In 2013, Dr. William Thompson, senior epidemiologist at the CDC stepped forward and confessed that the pivotal study by the CDC, published in the journal of the American Association of Pediatrics (2004) entitled "Age at first measles-mumps-rubella vaccination in children with autism and school-matched control subjects: a population-based study in metropolitan Atlanta," was manipulated, to cover-up evidence of risk, documents were destroyed. Its claimed findings were, therefore, fraudulent. Dr. Thompson provided detailed primary evidence in 1,000 pages of CDC documents showing the agency's scientists were engaged in vaccine research fraud with the full knowledge of highest CDC officials. CDC issued fraudulent public reports that concealed the risks the MMR vaccine posed for African American baby boys – as if Black Lives don't matter.
Dr. Thompson provided the original primary data from the CDC fraudulent study (2004) to Dr. Brian Hooker, a bioengineer who re-analyzed the data, including the data omitted from CDC's published study. "The present study provides new epidemiologic evidence showing that African American males receiving the MMR vaccine prior to 24 months of age or 36 months of age are more likely to receive an autism diagnosis."
Dr, Hooker's analysis was accepted for publication by the journal, Translational Neurodegeneration and published online on August 8, 2014. But soon after, it was "removed from the public domain because of serious concerns about the validity of its conclusions." (The article is posted on the "open access" Pub Med Central website – at least for now)
Dr. Thompson's testimony and documentation served as the catalyst for Dr. Wakefield's controversial film, Vaxxed: From Cover-up to Controversy. It is his second film. (Read more here and here)
In 2015, Thompson submitted his documentation to Congressman Bill Posey, R-Florida who made several impassioned speeches from the House floor, reading segments from the documents to underscore the need for a Congressional hearing. Sharyl Attkisson former CBS health news reporter noted for her fearless reporting –including the untouchable subjects – noted:
"In an untainted news environment, the allegations would make headlines in most legitimate publications and would trigger federal inquiries. However, the interests of the powerful pharmaceutical industry reach deeply into Congress and the news media through lobbyists, propaganda and advertising dollars"  (sharylattkisson.com/cdc-scientist)
Thompson went on to acknowledge: "There is biological plausibility right now to say thimerosal causes autism-like features." And he disclosed that vaccinating pregnant women with a vaccine laced with thimerosal poses "clear and present danger" to the unborn child in the form of "ticks" – involuntary repetitive motor movements or vocal sounds. CDC has recommended flu shots for pregnant women.
A betrayal of the public trust
The CDC bears responsibility for (a) concealing vaccine safety data and (b) adhering to an aggressive commercially-driven vaccination schedule, recklessly exposing vulnerable individuals whose immune systems cannot tolerate the multiple toxins in vaccines.  World renowned authority on autoimmunity, Professor Yehuda Shoenfeld MD has taken seriously the "double-edged sword" of vaccines.
"Vaccinations can provide an important protection from diseases like polio, rubella, measles, etc. However, there are several reports in the literature of onset of autoimmune disease within weeks or months from vaccinations."  Professor Shoenfeld is conducting serious honest research to identify the specific harm producing adjuvants in vaccines; and in devising screening mechanisms to identify those individual children at risk.
(Read: Yehuda Shoenfeld MD, "'ASIA' - Autoimmune/Inflammatory Syndrome Induced by Adjuvants," Journal of Autoimmunity, 2011; "Predicting Post-Vaccination Autoimmunity: Who Might be at Risk?" Journal of Pharmacological Research, 2015)
Evidence of research fraud by the CDC scientists — with full knowledge and approval by CDC leadership — is a monumental betrayal of the public trust by an agency entrusted with protecting the public health to ensure the safety and efficacy of vaccines that are injected into our babies and young children. The revelations should have brought the house of cards down. Instead, the medical journals and the media continue to vent their furry by attacking Dr. Wakefield – who harmed no child – and denigrating parents of autistic children, while turning a blind eye to the preventable catastrophic harm that victimizes hundreds of thousands of children and their families. CDC has defiantly refused to share vaccine safety data with independent scientists. It took intervention by congressmen to wrench data for independent analysis. (here)
The scientific journals maintained a wall of silence about CDC scientific fraud
As documented in our Monumental Betrayal post, the foundation upon which CDC's vaccination schedule relies on, is fraudulent research. The research fraud described by Dr. Thompson covered up an increased risk for autism for infant African American boys who are exposed to the MMR vaccine at too early an age. A consensus seems to have taken root within the channels that disseminate medical information; including the journals and the mainstream media not to report the falsification of the vaccine research database. Thus, reports that covered up debilitating harmful effects in African American babies following MMR vaccination were broadcast only by alternative health information channels.
Science journal editors seem to have followed BMJ's editor in chief whose stated objective was to "close the door on this damaging vaccine scare."