Whereas government agencies in Canada, Australia European countries set limits on the cost of prescription drugs, in the United States, thanks to a laissez faire government pass, pharmaceutical companies are encouraged to set prescription drug prices however high they wish without any limits. This is an unsustainable public policy. (Read more at Health Affairs.org)
An OpEd by article by Meryl Nass, MD sheds light on the astronomical rip-off Americans are confronted with when they go to fill a prescription at a pharmacy.
The prices for ordinary medicines are so inflated that 30% of prescriptions are never filled for lack of money or by arbitrary denial of access by health insurance companies. The cost of medicine threatens to bankrupt both individuals and the public healthcare budget. Yet, neither of the ruling parties – not Democrats nor Republicans – have even mentioned the issue, much less what they intend to do about it.
Indeed, it is our government officials who created a medical system that encourages astronomical price gouging by corporate providers: including pharmaceutical companies, insurance companies, hospitals, and pharmacy chains.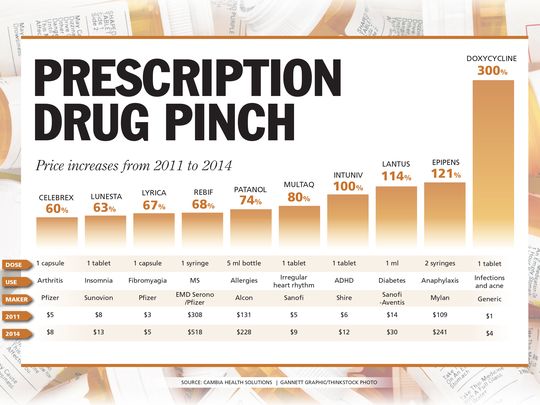 Maine Voices: How I almost got charged $200 for an $8 prescription 

ELLSWORTH — Pricing of and access to medication are handled in an insane manner in the United States. It has been said that between 20 and 30 percent of prescriptions are never filled, presumably because of cost or access issues.

Comparing plans is nearly impossible, because drug tiers, co-pays, deductibles and coinsurance vary from plan to plan and drug to drug. Those with high drug costs are likely to fall into the dreaded "doughnut hole," in which all pharmacy benefits go away, until you have reached an out-of-pocket limit of thousands of dollars.

The complexity almost seems designed to trap the unwary into paying more. Why must things be so complicated, and seemingly, so arbitrary?

My own recent experience is instructive.

I went to Walgreens to refill a prescription for zolpidem. The prescription was valid, but my insurer, Humana, refused to pay for it. I was informed by Walgreens that I could alternatively pay about $200 cash to fill the prescription. Instead, I purchased seven tablets for $17 cash, buying me a week to sort out the problem.

TAKE THAT, WALGREENS!

After 90 minutes on the phone with six Humana staff (who provided me several incorrect explanations for their refusal to pay for the prescription), I was finally able to learn that my private Humana Medicare D policy limits me to only 90 tablets a year of zolpidem. However, they might allow more with a prior approval. No guarantee.

It was suggested that I ask my doctor to fill in their form and wait to see if it was approved. Since my doctor was away, and it was not apparent whether the process would be successful anyway, I asked Humana to send me the form but kept searching for another solution.

I was aware of several startup companies that are taking advantage of the huge profits to be made in pharmaceutical sales. Their business model relies on negotiating low prices with pharmacy chains because the startups can provide patient volume. Even though the prices paid are very low, both the pharmacy chain and the startup make a profit.

So I went to Blink Health online to see what they offer. For the grand total of $8 I could fill the prescription that Humana refused to fill and that Walgreens was going to charge me $200 to fill (in the absence of a Humana approval).

Blink charged my credit card $8 and allowed me to print a page (or bring a picture of the page on my phone) to Walgreens, or any one of 19 other pharmacy chains, to collect my prescription.

Wow! I could hardly believe this would work, but I was excited to try it. I gave Walgreens the $8 piece of paper and easily collected my three-month prescription without paying a penny more.

This cost me less than the Humana co-pay would have been.

In my view, it is unacceptable that Humana has given itself the right (with government approval) to decide that some physician prescriptions for its insured patients should be covered for only three months each year. Clearly, this sets up patients to be price gouged, because in my case, anyway, the prescription would still need to be filled for the other nine months.

PRICE GOUGING ENABLED

It is also unacceptable that a medication on which Walgreens and Blink presumably make a profit at $8 is nonchalantly sold for $200 cash to those patients not savvy in the ways of the system.

Why do we Americans accept this treatment? Why has our government created systems that encourage it? I am a Medicare patient, and all of the above has been Medicare-approved.

No wonder health care costs over $10,000 per patient per year in the United States.

If I weren't a doctor, used to searching the internet, and had not kept looking for ways around this conundrum, most likely I would be without my medication this week. How many of my patients are without theirs?

— Special to the Telegram
Rising Cost of Drugs: Where Do We Go From Here?
"… the ability to charge prices based on what the market will pay, coupled with the lack of collaboration among market players, have propelled prescription drug costs to being a major reason why the United States spends substantially more on health care than other developed nations. Meanwhile, payers, institutions, and patients are grappling with ways to survive in the face of these rising prices, which often means pulling the lever of limitation, putting medical accountability at risk. We are on an unsustainable playing field that is likely on the brink of a makeover. (HealthAffairs Blog, August 31, 2015)