On November 9, 2021, the 83rd anniversary of Kristallnacht,, Austria unveiled a Holocaust memorial. It took Austria 83 years to acknowledge publicly its responsibility for the murderous actions of its citizenry that resulted in the slaughter of 64,440 Austrian Jewish children, women and men during the Holocaust.
The ceremony was attended by Austria's new Chancellor, Alexander Schallenberg and senior members of the government, and officials from the European Union, representatives of the Jewish community, and the Israeli Minister of Diaspora Affairs.
Three days later, on November 12th Chancellor Schallenberg ordered a lock-down (ie. house arrest) of more than two million unvaccinated Austrian citizens. Additionally, they would face huge fines and imprisonment — if they don't remain in their houses. read more.
As a Jewish survivor of the Holocaust it is unbearable to witness ever more parallels between the repressive stages of segregation. These current repressive, divisive executive orders are a stark reminder of the orders issued by the Nazi regime in the 1930s. Those orders methodically disenfranchised Jews prior to their dehumanization and genocidal murder.
 Government policies that discriminate demonize and disenfranchise a segment of the population are the "slippery slope" that inevitably leads to Genocide.
Austria's complicit partnership in Genocide:
When German troops entered Austria in March 1938, most of the Austrian population enthusiastically supported and cheered the Nazis. [Film clip]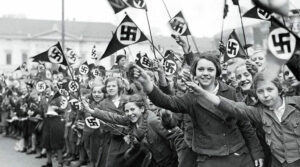 The seizure of power was accompanied by brutal, organized and spontaneous pogroms against the Jewish population. Most of the synagogues in Vienna were destroyed, burned in full view of the public. Jewish businesses were also vandalized and ransacked. The first systematic round-up of German and Austrian Jews occurred after Kristallnacht, when approximately 30,000 Jewish men were deported to Dachau and other concentration camps, and several hundred Jewish women were sent to prisons.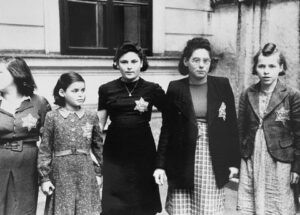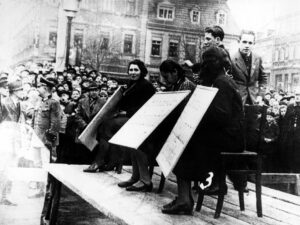 The Jewish population was forced to move to specific Viennese districts and wear the yellow star of David; but unlike in Poland and Hungary. the Nazis did not create ghettos in Austria.
For a while Austria functioned as a pre-genocidal laboratory for the Nazis. Adolf Eichmann was the leading bureaucrat, who experimented with various methods of persecution. Jewish community institutions, where personal relations were bound, were destroyed through terror, deportation of its leaders and functionaries to concentration camps. . A new Community board was installed; one that cooperated with the SS administration. They experimented with deportations to concentration camps as early as October 1939.
 A step closer to genocide: thousands of Austrian Jews were arrested and deported to the Dachau or Buchenwald concentration camps.
The Nazis gained experience that they later applied in occupied countries.
IBM provided the essential technology that enabled the Nazis to identify, ghettoize, and deport the Jewish population to concentration and death camps in lightening speed and efficiency. [Oxford Bibliographies]
Concentration camp prisoners were utilized as a continuing source of forced laborers in armament production factories.
Austria's concentration camps were established near armaments factories throughout northern Austria. The site was chosen because of its huge quantities of granite. The stones were used to build highways, the country's monolithic government buildings, and were used to build the concentration camps themselves. During the last months of World War II, Hungarian Jews who were sentenced to slave labor were sent to Mauthausen or its satellite camps.
Mauthausen is considered one of the worst camps. Aribert Ferdinand Heim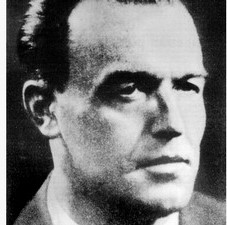 – Austrian SS doctor, was known as Dr. Death and Butcher of Mauthausen who killed and tortured inmates. Death marches were accompanied by massacres until May 1945. [Read more here.] Heim was never held accountable; he lived until 1992
Chancellor Schallenberg made an oxymoronic statement: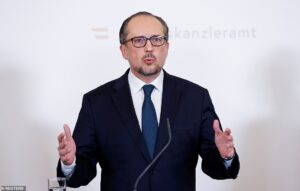 "My aim is very clear: to get the unvaccinated to get vaccinated, not to lock up the unvaccinated."
Schallenberg's blatantly discriminatory order prompted Austrian citizens to rebel.
Within days of the order, trade unions called for a large-scale uprising against this discriminatory measure. The leader of the Freedom Party (FPÖ), Herbert Kickl, called for a mass demonstration — "Freedom And Human Dignity" — on November 20, 2021 in Vienna.
Austrian Police & the Military Refused To Enforce Lockdown of Unvaccinated. They announced that they will join the demonstration against compulsory confinement.
The president of the Austrian Armed Forces Union (FGÖ), Manfred Haidinger, sent a strongly worded letter (published on November 14th), declaring that he intends to "defend fundamental rights and freedoms" and that they will participate in the large opposition rally in Vienna on Nove 20th. The FGÖ specifies that "everyone" is allowed to demonstrate, even if they are locked down!
When his order backfired, the Chancellor ordered the entire Austrian population to be locked down. Austria now has the dubious distinction of being the first, in Western Europe to repeat the disastrous 2020 lockdowns.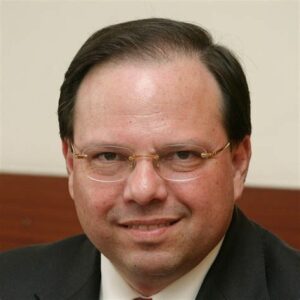 Dr.Thomas Szekeres, president of the Austrian Medical Association, has revved up the propaganda machine to intimidate people into getting the jab. He endorsed compulsory vaccination at the ORF press conference He stated that it's necessary to weigh
"how to enforce it. I mean, it's [sic] already a question of whether you tie someone up and then give them the shot."
Dr. Szekeres explicitly advocated depriving the unvaccinated of earning a living: "unvaccinated people will also have massive disadvantages in their job". His deputy, Harald Mayer, has also been aggressively stirred up panic about the "fourth wave" allegedly rolling in. Mayer sees compulsory vaccination as well as a lockdown for everyone happening before Christmas. Austria's Health Minister Mückstein announced lockdowns.
The Association of Statutory Health Insurance Physicians in Baden-Württemberg in Germany recommended that its contracted doctors should not treat the unvaccinated.
The complicity of the medical establishment with current repressive government dictates is an ominous sign – it signifies that the worst is yet to come…
Seventy-four years after the Doctors Trial at Nuremberg, medical doctors are once again implementing coercive public health measures. Medical doctors are coercing people to submit to experimental medical interventions that are shown to be harmful – in the name of public health. These coercive policies are supported by professional medical associations such as the American Medical Association and academic medical faculties.
These doctors and medical institutions are violating the foremost principle of medical ethics as defined by the Nuremberg Code: "The voluntary, informed consent of the human subject is absolutely essential."
Today's discriminatory decrees issued in Western Europe, Australia, Canada, and by the US President have relegated the unvaccinated to an underclass of unclean "untouchable" outcasts who are to be shunned, humiliated, ostracized, and punished as domestic terrorists.
How very chilling to bear witness to history repeating the deadly Totalitarian pattern.
The complicity of the medical establishment — as promoters and executioners of coercive enforcement of lethal public health policies — have laid the ground for charging them with crimes against humanity in an international court of justice. They will be held accountable for gross violations of the Nuremberg Code.
*Read also, The People's Response to Covid Tyranny Around the World.